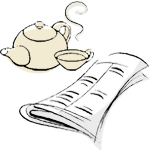 — ABOUT  Wasabi Stories… —
"Listen to others more than talking"
Today's story teller is a comedian and TV talk show host, [W:Kazuki Kosakai].
He's been in the show business for over thirty years.
In the story, he talked about his comedy teacher [W:Kinichi Hagimoto] and what he learned from him.
When Kosakai was 28 years old, Hagimoto suddenly told him "you will never get solo work because you talk all alone".
Being told so, Kosakai couldn't have truly understood the meaning of what the teacher said, until he picked up as a host for a lunch time talk show.
Most of the audiences are experienced middle-aged housewives, whom he had to control to play his cards well.
He did his best but the most of the feedbacks said "boring" for the first six months, which was painful to him.
Kosakai's word
"Someone told me 'why don't you listen to what the audiences are talking? They are so fun.' It reminded me the word from Mr. Hagimoto. I talk all alone and get sweaty so that I feel like working but I went round and round and got nowhere. I finally realized that."
Since he found his problem, he tried to listen to others' talking.
And he found that the audiences were actually talking funny.
When he changed, the mood of the audiences changed too.
After that, the program rating got higher.
"I think I have luck. At a good timing, I met a good teacher and leaned a good thing. But, I need to set up an antenna to catch others' opinions."
The NIKKEI Aug/28/2009  by Kazuki Kosakai (comedian/ TV host)

You should follow me on Twitter.