Since you are visiting this blog, I think you are familiar with Japanese food but do you know tamago kake gohan (egg sauce over rice)?
[note] Recently, it's called "T.K.G" (T:tamago, K:kake, G:gohan) in Japan.
It's literally beaten raw egg over steamed rice with soy sauce (to learn the detail, please read wikipedia).
It's very simple dish (?) but very delicious! And I eat it once a week at least because I just love it.
Whether you have had tamago kake gohan or not, I want you to see this neo-futuristic website run by Japanese food seasoning company, Ajinomoto.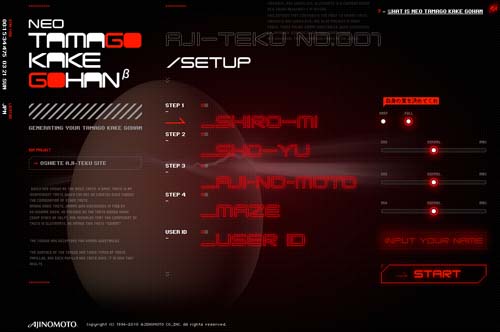 It doesn't look like a website about food but when you customize each item on the right slide-bar and click start, it demonstrates your tamago kake gohan.
When you first visit the site, it asks whether you want the sound on or not, I recommend sound on because the music is cool.
In the four steps, it asks how much egg white (shiro-mi), soy sauce (sho-yu) and Ajinomoto (MSG seasoning) you want and how long you want mix them (maze).
Like the demonstration, some people put Ajinomoto in their tamago kake gohan for more flavor.
The blog widget they provide is great too.
Please click it on the right side-bar of this website.
If you are interested in the dish, why don't you try it!?
What you need are only steamed rice, an egg and soy sauce.
This is JAPAN Style!
You should follow me on Twitter HERE.