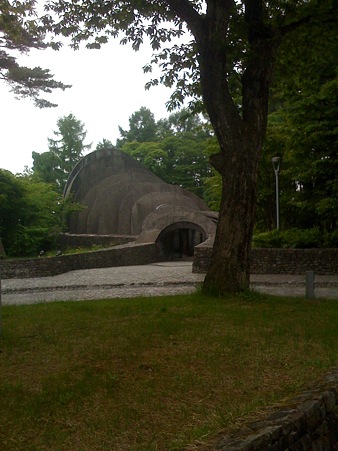 Stone Church posted by (C)レグシス
This domino effect like Stone Church is in Karuizawa, a mountain resort in [W:Nagano Prefecture].
Stone Church was designed by KendricK Kellogg, an American architect in 1988.
It was made to honor the Japanese Christian evangelist, Uchimura Kanzo, and the underground of the church is his memorial hall.
Inside of the church is full of nature feel; it's made of stones and there are water stream and some greens.
The glass ceiling gives a lot of sunlight in the church during the day.
You can't see it from the pictures but there are glasses between the domino piece like stones.
According to the architect, the stone symbolizes man while the glass refers woman; therefore, the church is mostly used for wedding.
To see more details, visit the official website (English)
This is JAPAN Style!
You should follow me on Twitter HERE.