As I already announced on Twitter and so on, I was involved in a traffic accident on March 15. What happened was that I was hit by a motorcycle when I was crossing a road on a bicycle about seven thirty in the night.
I was knocked over with the bicycle and hit my back hard, ended up breaking two lumbar vertebrae.
The severe pain made me think that I would never be able to stand and walk.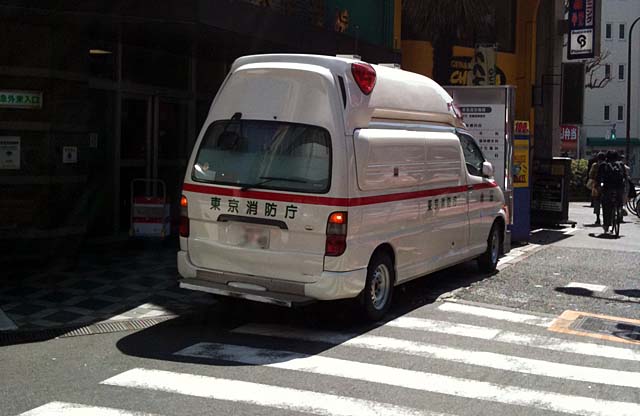 It was not the first time for me to be hospitalized; I had been hospitalized for two years for leg disease when I was a schoolboy.
But I had never been taken by an ambulance, so it was kind of a good experience 🙂
At the hospital, I spent almost all my time lying on a bed because I wasn't allowed to get up till my plaster cast (corset) gets done.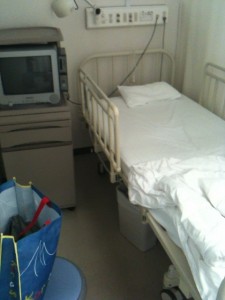 I had to manage to eat food while lying on the bed. I also had to pass urine on the bed but when I had to relieve my bowels, I tool wheel chair to use bathroom.
The life at the hospital was so boring. Breakfast was served at eight every morning, and then I got my temperature taking, took medicine, and doctor's check up.
There was nothing to do between lunch at noon and dinner at six.
Light went out at nine every night. I was so bored.
Now I think about it, I got foot massage twice a day because lying on bed all day makes bad circulation in my legs.
This is a device that stimulates legs to improve the circulation. It felt so good.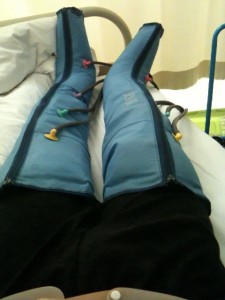 I couldn't take shower for the first week at the hospital nor shave my facial hair. With pain and boredom, I had terrible time there.
By the way, it is said that hospital food is nasty but the food where I stayed was bland rather than nasty.
About three days after I got hospitalized, the motorcycle driver, who is responsible for the accident, visited me with personnel of an insurance company.
What I concerned about the most was the hospital charge.
If the one who is responsible doesn't have any insurance policy, it is hard for the victim to claim for the damage. In the worst case, the victim may have to pay for it out of his pocket.
In my case, he subscribes an insurance, which covered my hospital charge. It made me relived.
Speaking of expense, insurance companies generally pay victims of traffic accidents "compensation for absence from work" and "consolation money" in addition to hospital expenses. But in many traffic accidents, victims also are responsible for the accidents; therefore, the payments are reduced in proportion to the degrees of the faults. Insurance companies decide how much they would reduce on their own terms after hearing from both sides.
Now I have to discuss those things with the insurance company while having the physical difficulty. It gives me headache.
Going back to the original topic, a week after I got hospitalized, I started to practice working with my brand new corset.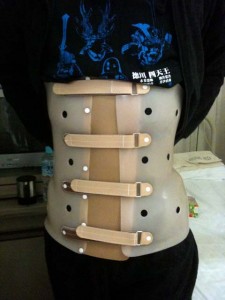 Because I had been lying on bed for a week, I got cramp in my legs just as I stood up. Only after thirty minutes since the rehab started, I got muscle pain. 😯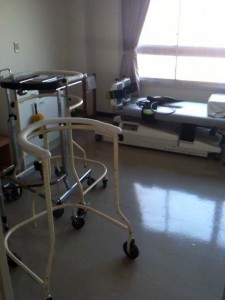 After the treatment, I started to be able to stand up and sit down little by little.
I stayed at a room for 6 patients, and I made friends with other patients exchanging business cards.
Many of them broke legs and arms in traffic accidents and needed surgical operations. It made me think that I was lucky.
Because of the scheduled blackout after the earthquake, the heater in the hospital room was off, and there were so many aftershocks. I was beside oneself with fear on the hospital bed being disabled to move.
I can say that the March was a horrible month for me having the earthquake and the accident, but having experienced the hard time at the hospital, I think I understand how the victims of the earthquake feel a little more.
It is cliché but when you go through painful experience, you understand others' pains more. In this sense, I can say that this traffic accident was a good experience for me.
Last of all, I want to say this to everyone who is reading this post,
Guard against traffic accidents!
This is JAPAN Style!