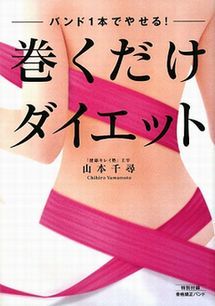 Makudake Diet posted by (C)ごんるい
Today's best selling book in Japan is "Makudake Diet", which introduce the method of chiropractic based diet by wrapping body part with a wide band.
The important point of shaping body is to have body to memorize the right position of its skeleton.
By wrapping body with a wide band, it substitutes for muscles and support the skeleton.
Not just supporting skeleton, but wrapping body part with a band helps to get rid of swelling.
It's like when you grip a hose which water running inside, it stops water but once you release your hand, the water gushes out.
In a Japanese TV show, a woman had 103cm waste lost 6cm by doing this method and corrected her body structure for 30 minutes.
The good things about this diet are that you can do it while you are cooking or brushing your teeth, and what you need is only a wide band.
This is JAPAN Style!
You should follow me on Twitter HERE.