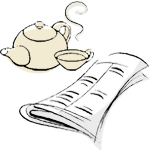 — ABOUT  Wasabi Stories… —
"Why Am I Alive? "
Today's story teller is a professional mountain climber, Hirotaka Takeuchi.
In the 39 years of his life, he's had several life-danger situations in mountains.
His biggest crisis was when he was carried away by an avalanche in Gasherbrum II, the mountain located on the border of Pakistan-China.
By this avalanche, he fell 300 meters down (which is about as high as Tokyo Tower), and he was seriously injured; his lumbar vertebrae were crushed and five ribs were broken.
Furthermore, he lost two partners who were climbing with him were killed in the avalanche.
When he was buried under the snow, he thought "I can stay alive at least 15 minutes" because there was air in the snow; however, he lost his conscious when he swallowed the melted snow in his mouth.
He kept falling down all the way to the starting point, where almost his whole body was snowed but his left arm bent like "L" was out of it, and the rescue party found him and his life was saved.
Right after he was rescued, he was still confused and upset that he was talkative to the visitors.
Having to listen to the visitors saying "you were lucky" was too painful to him.
"I have to think of what was wrong forever. Why I survived and they didn't."
He had thought that he had to stand the same place and pick his mind to go step ahead in his life, and one year later, he challenged the mountain again.
Takeuchi's word
"A year after, Finnish climber Veikka Gustafsson and I embraced together on the top of the mountain. 'Thank you Veikka' so I said and wiped behind the sunglasses. I had never cried on a mountain but my tenth eight-thousander was special. It was not only my reaching but all kinds of people pushed me up. It's a big big reaching. "
The NIKKEI Jul/28/2009 by Hirotaka Takeuchi
You should follow me on Twitter HERE.