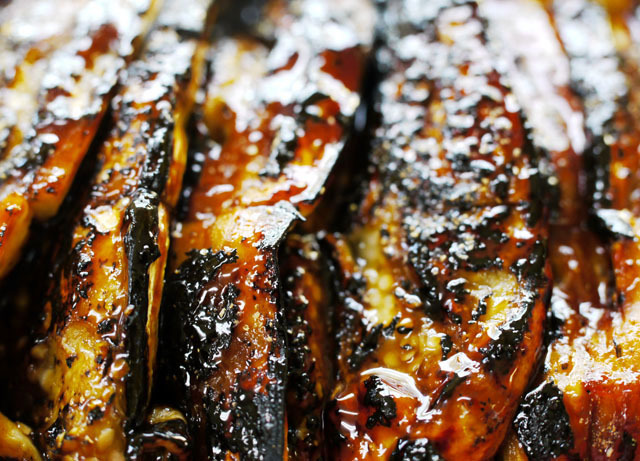 Eel is known as a luxury food item, but in these days, the price of eel has been going up more and more in Japan for various reasons.
People would like to eat broiled eel especially in summer, but they cannot have it so frequently because of the price.
One day, the writer of this article heard that there is a restaurant that has "broiled eggplant" (not broiled eel), in Ota city, Gunma prefecture.
Umm… "Broiled eggplant"….. How is that?
There may be some substitute items for eel, but how is eggplant??  I know that it has a kind of similar color to the eel, and both are good items for summer though…
OK, let's go and just try anyway!
The writer left for Gunma to try the broiled eggplant.
Ota city is famous for "Yakisoba(pan-fried noodle)", but this time, she would try broiled eggplant (not eel).
It took 2 hours and half from Tokyo by JR and Tobu line, to the nearest station for the restaurant.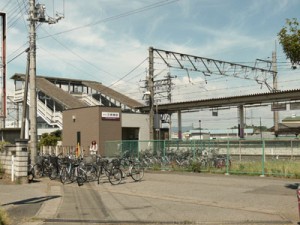 It's really blue summer sky and the bicycles are
aligned in the same direction.
The map says it's only 5 minutes car ride to the restaurant. So she took a taxi, because it was really hot and strong sun to walk to get there.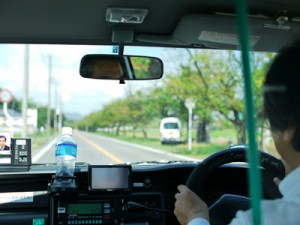 No people outside. Yes, it's too hot out there.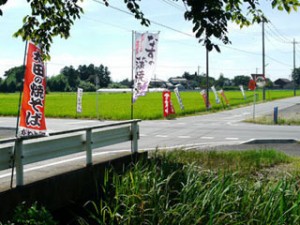 The banners are flying! It says "Broiled eggplant"!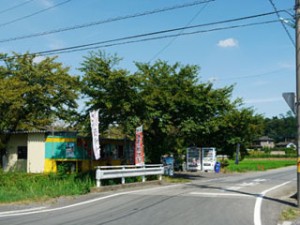 Yes, there it is! It's like a small forest.
Before she left Tokyo, actually she was worried that the restaurant does not have the broiled eggplant anymore.
But they have! She is relieved from the worry now. "I'm glad to be here!"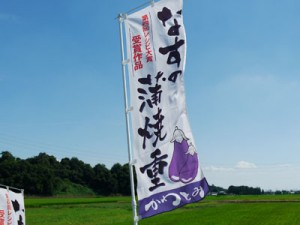 What a beautiful banner on the blue sky!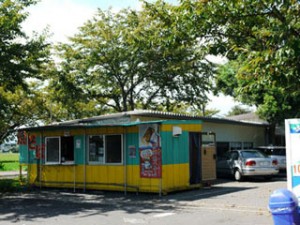 Many local people were visiting to this panelized restaurant.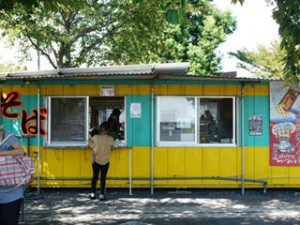 They were making an order from outside,
and buying them to go.
All of the customer are making orders in a very assured manner.
Hearing the conversation between the customers and staff, she found that the restaurant is making really familiar relation ship with the local people.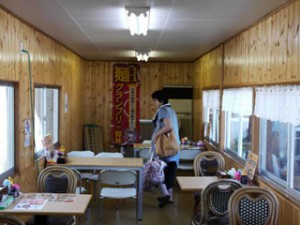 She goes into the restaurant and has a seat.
And she said "Broiled eggplant please!" without second thought.
Looking around inside, there are some papers on the wall.
 

An article for this restaurant."The owner on the photo?"

 

It says it was broadcasted on TV.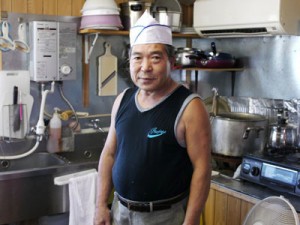 The owner Mr. Kawata.
His wife says he is an "idea man". 
Talking with him, he was so surprised that I came from Tokyo to eat the broiled eggplant.
She found that the broiled eggplant is not the latest menu, since it was released around 4 years ago.
She thought it was released because the price of eel is going up recently.
"Sorry Mr. Kawata!"
After waiting for a while, the meal came toward me with its great smell!
Here it is!!!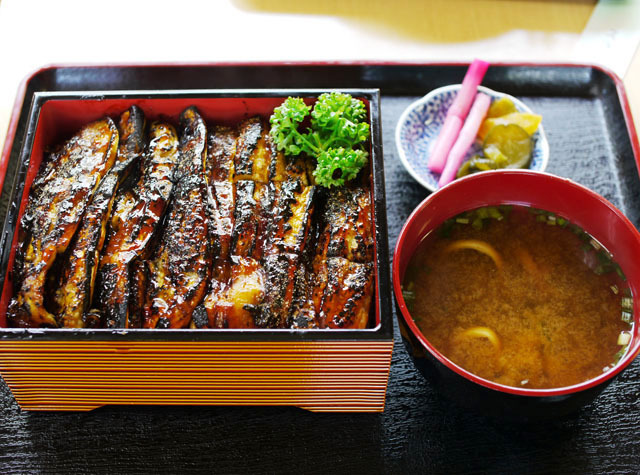 Look at this! It's full of eggplant, we can't see the rice anywhere.
600 yen (US$7) is very reasonable.
"Wow! it looks delicious!" When she opened the cover of the box, she got the same feeling as she opened the box of eel.
| | |
| --- | --- |
| |   |
|  This shiny, glossy eggplants!  | She was filled with joyful expectations!  |
|   | |
| Umm…. It's…..  | There are some chickens and lavers under the eggplants.  |
IT'S DELICIOUS!!!!
It's really good. She can agree that the menu has been continued for 4 years.
It's not a substitute menu for the broiled eel. It's a highly respectable menu cooked with eggplant.
"This menu can be added to my regular menu for dinner." She thought.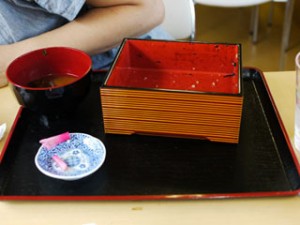 Of course, she finished all in no time.
She also ordered for the fried noodles and fried chickens in addition. She thought she cannot go home without having the local specialties.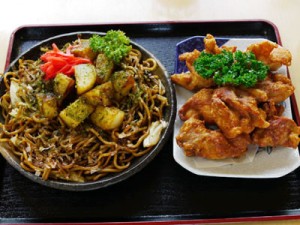 Umm… it's yummy, too!
She was able to fill up with such delicious meal at a very reasonable price, and furthermore, she got a souvenir of brawn from the owner Mr. Kawata.
She felt so happy to come all the way to try the broiled eggplant from Tokyo.
Then she went home with satisfaction, promising herself to cook it at home.
Now we have seen her report of her short trip of Gunma. What do you think?
Though the price of eels are going up, you can have many other delicious meals, up to your ingenuity.
Please let us know your great idea of arranged meals.
Source: Daily Portal Z
This is JAPAN Style!