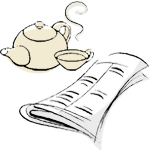 — ABOUT  Wasabi Stories… —
"When a twist crosses a certain line, it becomes art"
Today's story teller is an author and professor of literature at Keio University, [W:Anna Ogino].
"Unexpectedly, students watch teachers well."
One day, Ogino got surprised to see a student's message to her on an examination sheet saying "the T-shirt you are wearing today is funny."
The T-shirt was printed a pig sadly staring at a tonkatsu (pork cutlet) from a corner.
Ogino always thinks that "when a twist crosses a certain line, it becomes art".
There is this watch she used habitably written "You're Gonna Be Late!" and it cost about 8,000 yen (US$88).
She said it is expensive for a just plastic watch but it's cheap for an art piece.
At the store she got the pig T-shirt, they sell different series of printed shirt too.
The newest one is "misanthropy series" lol.
For example, on the back it says "money" and on the front it says "I believe nothing but money".
There are also "alcohol" and "meat" versions of it.
Thinking they are perfect for her friend who is up to the ears in debt and loves alcohol, Ogino bought some and gave them to the friends.
She said the shirts really pleased the friend.
Ogino's word,
"For myself, I got 'Extremely S' T-shirt. It's not small size 'S' but it's the sadist's 'S' (in Japan, 'S' simply refers a harsh person too). With this shirt on, I gave my students a pop test. After I got the test sheets back, I found a test sheet written 'Extremely S' under the professor's name. Like teacher, like student. I wonder what I should wear for the next exam."
'Extremely S' T-shirt
The NIKKEI Jul/13/2009 by Anna Ogino (author)
You should follow me on Twitter HERE.