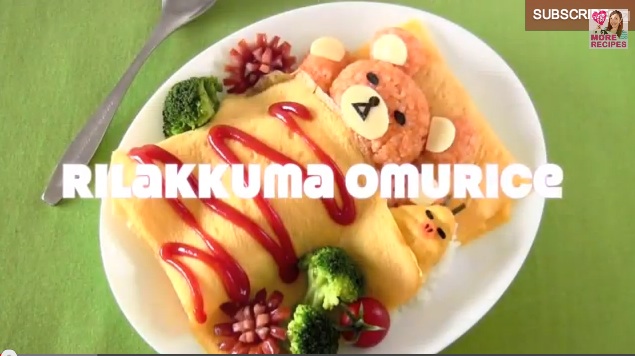 As you may know, Rilakkuma is one of the most popular characters in Japan. Today I would like to share a recipe for kawaii Relakkuma omu-rice (=omelette made w/ fried rice) from the "Ochikeron channel" on Youtube.
In this recipe, the cooking part itself is not very complicated, but I guess you have to be a bit dexterous to shape the contours of a Rilakkuma omu-rice dish. This kitchen project may be more like craft-making than cooking 😉
************************
[ Rilakkuma Omu-rice ]
– Difficulty: Patience
– Time: 45min
– Number of servings: 1
50g (1.8oz.) minced onion
2 tbsp. ketchup
salt
1 tbsp. cooking oil
((Blanket & Pillow))
2 eggs
cooking oil
((Yellow Bird etc…))
chicken nugget
carrot
black sesame seeds
sliced American cheese
Nori sheet
Oshaburi Kombu (chewing Kombu kelp snack)
sausages
cooked broccoli
cherry tomato
ketchup
************************
By the way, this is very old fashioned Japanese omu-rice with hard cooked eggs and ketchup. Children always love it!
And here is modern style omu-rice with half cooked eggs and brown sauce. This is more for adults, and recently it has become quite common on restaurant menus.
Which one looks good to you? I love them both! 😀
Author: Junko
This is JAPAN Style!