Last time I posted an article written by a guest writer, Mr. Alex Shiroki from Ukraine. He showed us a lot of 'Japan in Ukraine'! There seems to be something more. Let's see the second half of his story 🙂
********************************************************
Speaking of more serious and goods-unrelated matters you can encounter Japan presence too. Capital of Ukraine Kiev's "sister city" is Kyoto – so there is Kyoto street in Kiev and Kyoto park – it was founded 40 years ago and reconstructed just recently.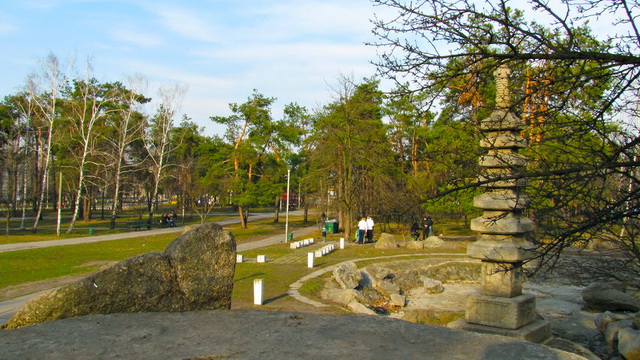 Green alleys and entourage of Kyoto park in Kiev remind of Japan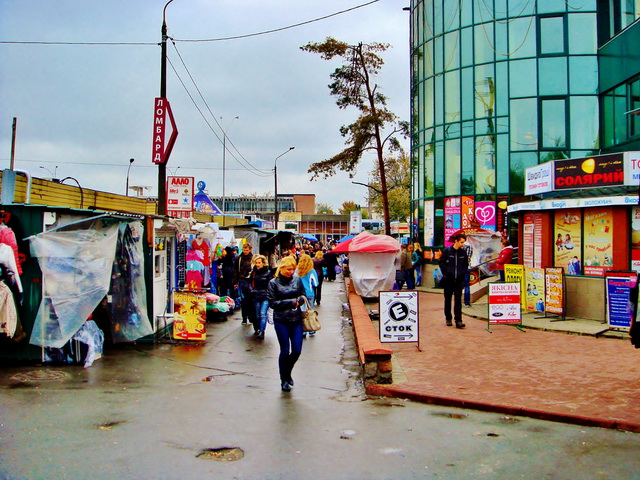 Kyoto street in Kiev
Meanwhile in August 2011 Kiev authorities announced plans to plant out a 1,800-meter Alley of Sakura in Kyoto Park. It will be the longest Sakura alley in the world and commemorate 40-year long friendship between our two countries.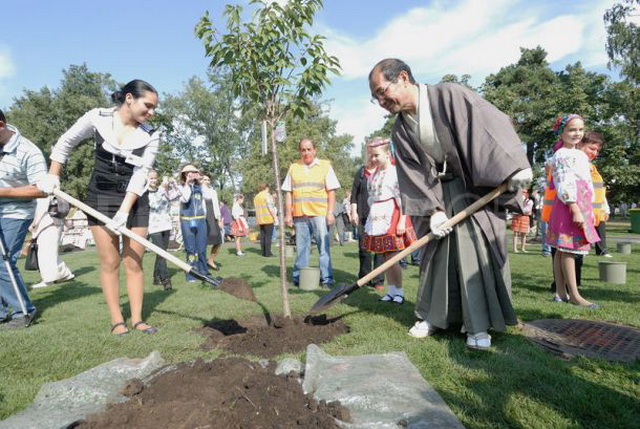 The mayor of Kyoto Daisaku Kadokawa plants a sakura tree in the Kyoto park
– photo by unian, Ukraine news agency
In Uzhgorod – which is in western part of Ukraine – the famous Sakura alley became a calling card of the city. Its fragrant flowers commands tourist's attention for two weeks each year. The sakura was brought to Uzhgorod a hundred years ago from Japan. By now there are more than 2,000 of these trees. In spring of 2011 about 200 new Japanese cherry trees were planted and they will bloom in two years.
It's estimated that a record number of guests – almost half a million – will come to Uzhhorod this year to enjoy the cherry blossom season.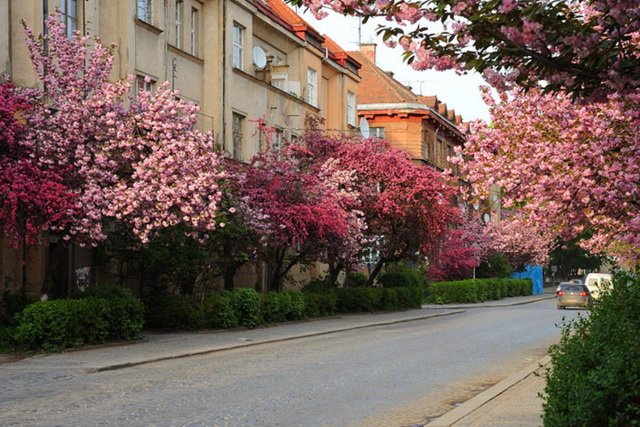 Uzhgorod sakura alley is rich in color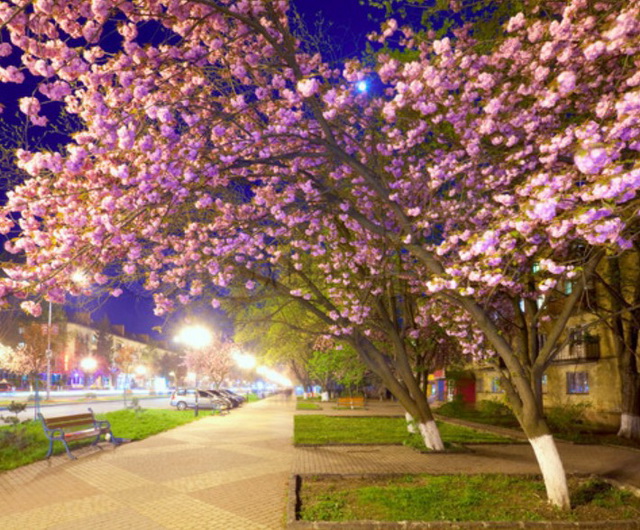 Uzhgorod sakura alley at night
In March 2011 when catastrophical earthquake and tsunami hit Japan Ukrainian people brought endless flowers and candles for many days to Japanese embassy in Kiev – we were all praying for Japan and it's people those days and Japan was in our hearts.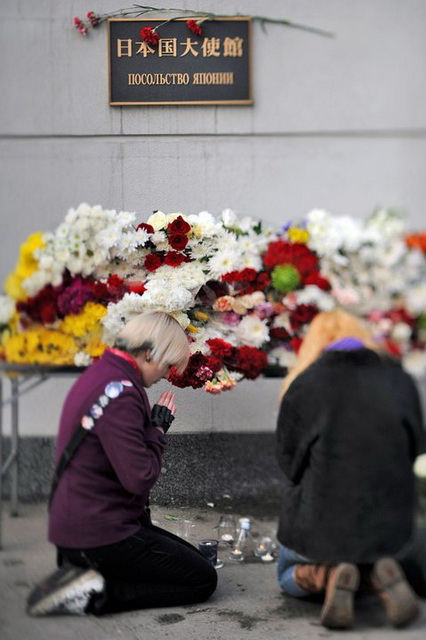 People on their knees praying before Japanese embassy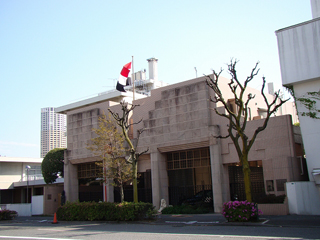 Flowers with support messages before Japanese embassy
– photo by unian
Later in April there was a "Cheer Tohoku" event as a part of worldwide action held in Yalta, where I took part too.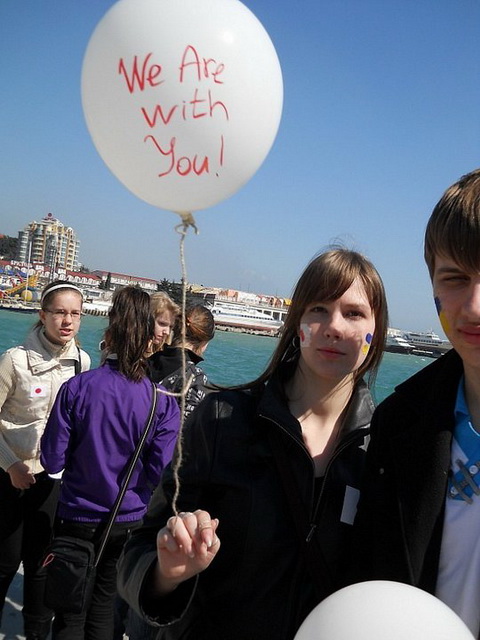 Cheer Tohoku event
Same things were happenning all over the world – Japan received worldwide support which came not only from prayers but as donations of our people too. Our president invited children from tsunami-hit regions of Japan to stay at International Children's Center"Artek" in Crimea for recovery and rehabilitation. It is the largest centre for children in Ukraine and was the largest in USSR. In 2004 it was officially recognized by UNESCO as a site for the implementation of international projects and in particular during the UN Decade of Education (2005–2014).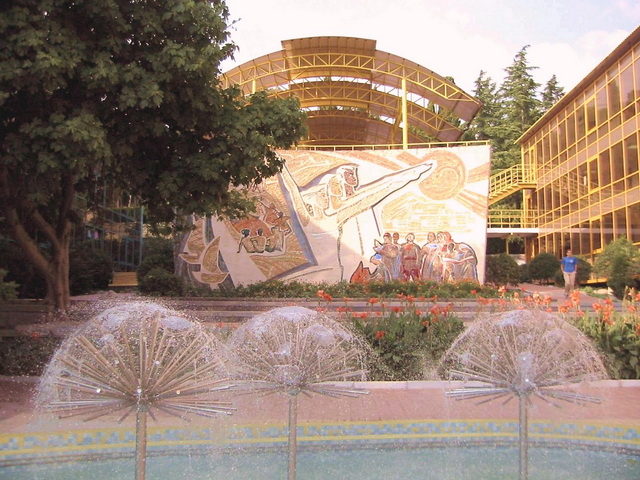 "Artek" children's centre
Japan is far – and at the same time Japan is near. Ukrainian people encounter Japan in their life constantly. We are amazed at development and well-being of Japan, at it's natural beauty and people who live there, who had built such a country which they can be proud of. Here we see you as example of what can be achieved by hard work and loving your country.
by Alex Shiroki
[Twitter] https://twitter.com/#!/Shiroki_Alex
[Facebook] https://www.facebook.com/alexander.shirokij
********************************************************
To Japanese readers; Here is a heartful massage from Alex! Thank you very much Alex 😀
>>What I know is – 日本は美しい国ですand 日本は強い国だ and most of all 日本は驚きでいっぱいだ! So – 頑張れ日本人!
(Japan is a beautiful country, Japan is a strong country, and most of all Japan is full of amazement! So, GANBARE Japan!)
This is JAPAN and UKRAINE Style!