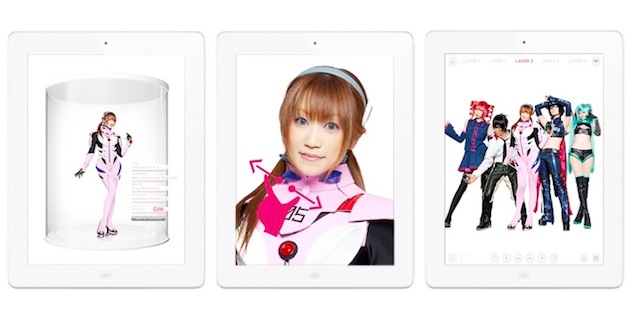 This month, Japanese photographer Nobutsugu Sugiyama released an interesting iPad app (iPhone version will be on sale soon) called "COSPLAY SHOWCASE".
This is a photo book style app based on the theme of Japanese Cosplayers. I first thought those who appear in this app were professional fashion models in special costumes. But amazingly, they are real cosplayers playing active roles in many cosplay events. And what's more, their costumes are handmade! Wow (@_@)
Here is a demo video. Check it out!
Seems quite fun! Unfortunately I don't have an iPad (nobody around me has iPad either….sigh), but I really want to try this app. As seen on the demo video, the app lets you see around each cosplayer from eight different angles. Here is also a making video (shooting scenes). A model in a costume on a rotary stand is photographed from many directions many times!
[Main features]
– 1,776 photos of 222 characters included.
– Able to view the photos from 8 directions by flicking the screen.
– Able to use the zoom-in, zoom out function by pinching the screen. (The images are set in High-resolution, which is optimized perfectly for iPad and iPhones.)
– Able to arrange the order of the photos by their character names and titles of Comic/ Games.
-Able to save photos as "favorites", or delete them.
– Able to arrange, display, save favorite cosplayers and make original sets of combinations (In "Gathering" mode).
– Language can be set in both English and Japanese.
– Size: 1006MB  / Language: English&Japanese / Price: US$3.99
For more information, see App Store 😉  >> http://itunes.apple.com/us/app/cosplay-showcase/id447539788?l=ja&ls=1&mt=8
Source: Cosplay Showcase Website
This is JAPAN Style!