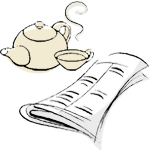 — ABOUT  Wasabi Stories… —
"What's Your Policy on Parenting?"
Today's story teller is a famous female manga writer, Rieko Saibara.
The topic was parenting but as a mother of two children, she flatly said she doesn't have policy on her parenting.
Saibara said "It's fun to be with them. That's all. Other mothers say I don't get angry so much. Mothers are always angry since morning like alarm clocks. My mother was like that. Taking out your anger on a person who is weaker than you is not a good idea. If you get angry, eat till you get full and sleep. It's better. In a family, even the house is cluttered or eating bargain priced bento from supermarket, the mother not being angry is the best."
To the question "What do you want to tell your children the most?" she made an instant reply, "the importance of money".
Before her husband passed away in 2007, he had been suffered alcoholism.
For his therapy and nursing, they needed money.
She said they could pay for those because she had job. So, she especially insists how important for girls to be independent.
"I want my daughter and single women to learn how to choose a partner before put her on a crossroad where she has to pick family or work. Choosing a man who earns 10 million yen a year and wants to marry a company is risky. It's better that wife and husband both work and each earns 5 million yen a year and divide house work and parenting between them. It's less risky when either of them is struck down. Women can work and raise children. Let's take all we want! I keep telling my 8 year-old daughter, whatever the occupation is, there is no choice but to work."
The NIKKEI Jun/16/2009 by Rieko Saibara (manga writer)
You should follow me on Twitter HERE.