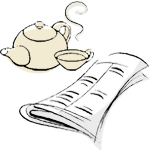 — ABOUT  Wasabi Stories… —
"Scenery and largeness of heart are related each other"
Today's story teller is an environmental photographer, [W:Takashi Amano].
He has taken photographs in Amazon for ten years.
Seeing the beautiful river getting polluted with the ashes from burned field was getting hard for him to take pictures there anymore, so he left and came back to Japan.
What made him wanted to be an environmental photographer was nature of Yoroigata in [W:Nigata Prefecture].
It getting reclaimed made him think what the environment is.
Amano explained that there is a word "environmental education", but teaching in a classroom doesn't help, and it's not really educational unless showing actual nature.
When he was child, there was no river that doesn't have Japanese killifish; however, it's hardly found in cities today.
"The adults who grew up without seeing nature are scary."
Amano concluded the article,
"The measures to be kind to the earth are often spoken like turning off electricity as often as possible and eco products are released a lot but I think there is no viewpoint of the scenery of nature. I have met various people in countries all over the world. The people who live in a dissolute scene have the same hearts. Scenery and largeness of heart are related each other."
The NIKKEI May/15/2009 by Takashi Amano (Environmental Photographer)
You should follow me on Twitter HERE.