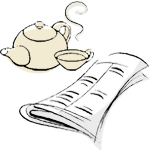 "Just living hard makes you beautiful"
Today's story teller is a member of the House of Representatives, [W:Junji Higashi].
He is also vice president of the New Komeito party.
The article is about his young memory with his mother.
His father past away when he was 2 years old, so his mother was a single parent.
At that time, their life was so hard that they lived in the house for mothers and children but although he had an older sister, the house only accepted a mother and her child, she had to live separately from them.
A schoolboy Higashi went to the construction company where his mother works right after school finished.
It was a small office, and every time when he opened the door, he saw his mother working hard at a desk with her back stooping.
"I can only think of her working all the time. That was the time when everyone was single-hearted to live."
Higashi reviews the time.
Grown up Higashi went to his way as a politician in 1990, but unfortunately, his mother passed away without seeing him as a politician.
Higashi assumes to be said by his mother if she was alive,
"Never betray the people who have no name but live hard and beautifully."
The NIKKEI Apr/23/2009 by Junji Higashi (a member of the House of Representatives)
You should follow me on Twitter HERE.