–Introduction–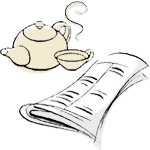 "Wasabi Stories" is a quotation and summary of a column which touches ones heart or not found on the internet.
It is a Japanese famous person's story extracted from the NIKKEI news paper.
The purpose in posting the column in JAPAN Style is to cheer you up and to make you feel "it' was worth reading!"
Wasabi (Japanese horseradish or mustard) is spicy and stimulate your nose and make you teary.
The columns in "Wasabi Stories" hopefully spice your heart and sometimes make you teary!
The stories were originally sent as E-mail Newsletter in Japanese. Some are a little old but we'll eventually catch up with new ones.
"Just Living is OK enough"
Today's story teller is a comedian and magician, Maggy Shinji.
In Japan, he has been popular by bringing magic tricks into his comedy routine.
Shinji decided to be a magician under the influence of his father.
When Shinji was a child, his father gave him a box as a birthday present, and he was so excited to see what it is.
After opened the box, he got disappointed because the box was full of "pocket-tissue (tissue papers)".
Again, he looked into the box carefully and finally found the handy game that he had wanted.
It was much more surprise and made him happy than given the present by itself.
That's how he learned the joy of entertain people.
Now, Shinji is a father of two year-old daughter.
Being a parent changed him from a workaholic to a family guy.
"Just like, there is no right answer for parenting, so I want to dedicate my comedy and magic teacher, Maggy Shiro's motto, 'Just living is OK enough.' As her father, I like to be pushy but my biggest wish is that she lives her life that she feels happy. It'll be great if she assist my stage someday though. " Shinji said.
The NIKKEI March/17/2009 by Maggy Shinji (Comedy-magician)
You should follow me on Twitter HERE.