–Introduction–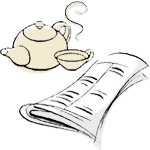 "Wasabi Stories" is a quotation and summary of a column which touches ones heart or not found on the internet.
It is a Japanese famous person's story extracted from the NIKKEI news paper.
The purpose in posting the column in JAPAN Style is to cheer you up and to make you feel "it' was worth reading!"
Wasabi (Japanese horseradish or mustard) is spicy and stimulate your nose and make you teary.
The columns in "Wasabi Stories" hopefully spice your heart and sometimes make you teary!
The stories were originally sent as E-mail Newsletter in Japanese. Some are a little old but we'll eventually catch up with new ones.
"Persuade Yourself for the First Step to Success"
Today's story teller is an athlete [W:Nobuharu Asahara], who won a bronze medal for 100 meter relay in Beijing Olympic in 2008.
After he graduated from university, he entered a Japanese company which allows him to get training abroad, and then he chose Germany as the foothold.
The life in Germany was hard for him.
He couldn't speak German or English, so he went to language school in the morning and went to training in the afternoon.
Because he joined athletic meets during weekends, there was no rest.
Asahara says "it was hard but I just wanted to be stronger. I persuaded myself 'failure is not an option, I am certain to succeed.' I was in Germany for 5 years, and I became very strong mentally."
After being a "knight-errant" in Germany, he went to America at the age of 30, where he found the differences between Europe and America in training athletes.
In Germany, he got strict eyes on hi life style and his training.
In America, on the contrast, most athletes are relied on their autonomies.
Relying on autonomy could make athletes dull, but it's not true.
American athletes have strong hungry spirits, for example, when they enter athletic meets, they pick high prize one.
Being in those environments, Asahara has been polished, and the experiences serve his athletic events.
As he persuaded himself, he succeeded as an athlete.
He is now a bronze medalist.
The Nikkei Feb/4/2009 by Nobuharu Asahara (A Bronze Medalist in Beijing Olympic)
You should follow me on Twitter HERE.