So, only a few hours to go to welcome a new year (in Japan time).  I assume all of you are busy to get ready for new year after Christmas holiday.
As we are at a very end of yearend, I would like to look back my 2012 with you all.
If I am  to describe this year by one phrase, 2012 was 'a year of new challenges' for me.
I established my own company a few years ago to sell Japanese products to people living abroad.  All products I am selling are carefully selected by myself so that I can proudly introduce Japanese products to people from overseas.
So what am I selling?  Good questions!  Major products I am selling at the moment are watches (Casio and Seiko etc.), fountain pens & ink (Sailor, Pilot etc.) and fake food products.
As you know, Tohoku region of Japan was hit by huge earthquake and tsunami on the 11th of March.  In order to help restoration of the areas, I joined the project to help selling products from Tohoku region to people living abroad.  Through this activity, I found a lot of opportunity to experience something new.
For example, I had some opportunities to visit local sites and give presentations to explain how to sell products to people in other countries (mainly explanation about eBay); however, the situation was not quite what I was expected; there are many companies in Tohoku area, which are not started selling their products online for domestic customers.  So even if you explain passionately how to sell their products to international customers, they are just not sure about the idea of selling their products internationally at all.
As all explanation has to be simple and clear for those who haven't done online sales yet, structuring presentation for this project was not always easy, but I somehow obtained conversation skills, guts as well as new networks with many companies through this activity.
So, major challenges for this year were as follows;
1. Business in a new field (oversea sales support for products from the areas hit by earthquake)
2. More than 20 times of presentation were given at seminars and lectures.
3. The highest sales target ever was achieved.
4. We welcomed new employees.
5. Japan Style blog was updated on an everyday basis.
The item which gives me a sense of achievement the most in this list above was No. 3; achievement of sales target.
It is very important to have a successful experience to be confident.
In this sense, this No.3 brought me a big confident, and I decided to treat myself with a watch of Orient.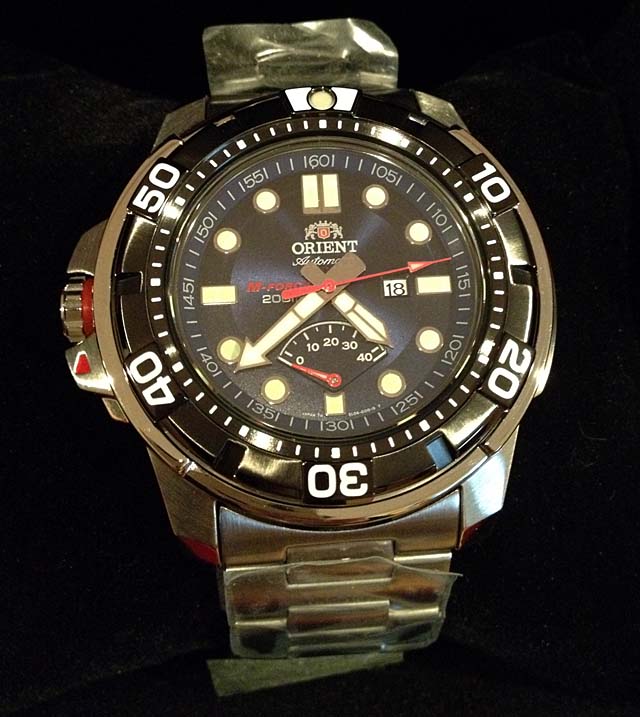 I assume there will be more challenges I have to overcome in the future throughout my life.  But I would like to remember this success always, and look at this watch when I feel down.
Next year, I would like to challenge new things with Japan Style blog, too. If there is anything you would like me to write about or if you have any suggestions, please let me know from this link.
So, dear all of my readers, thank you very much for reading my blog this year.  Your continued support to japanstyle will be much appreciated!
I wish you a happy new year!  😉