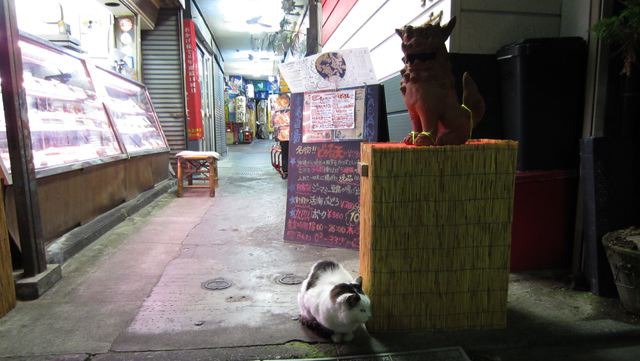 Old traditional Okinawa town in Tokyo
I heard that there is an Okinawa Town just 2 stops from Shinjuku station, Tokyo.
I've never heard this before, but I'm just really interested in how it is.
The writer of this article also heard this from one of her friend one day, and she and her friend decided to go see there.
Here is her report.
***
According to some information, there are many people who came from Okinawa prefecture are living in this area, and there are many Okinawa shops and restaurants.
Close to Keio-line Daita-bashi, the small town which theme is Okinawa is there. It's really close to the big city Shinjuku, but the atmosphere of this town looks completely different.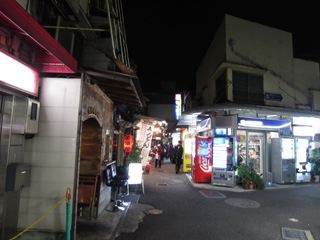 This is in front of the Daita-bashi station.
It looks pretty normal town. Is there any Okinawa taste in this area??
Wondering about it, they walked into the small street of the town.
| | |
| --- | --- |
| |   |
|  Taco rice and baked pork with fried rice |  Sanpin-cha is like Jasmin tea. |
They thought the shopping street is right next to the station, but it was a little bit far from the station.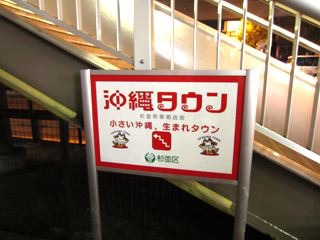 It says Okinawa town.
After walking for a while…, they found a sign with taste of Okinawa.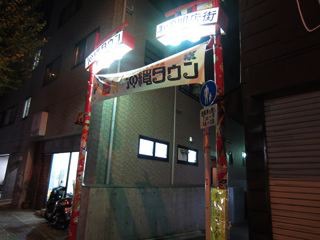 Is this the entrance of the street??
A typical traditional Okinawa style that people think is like flashy semi-tropical warm atmosphere, but there is no such a mood anywhere around the entrance. The entrance with sign of "Okinawa Town" is sober, and long narrow road is going as straight in the dark.
With a doubtful feeling, they passed through the entrance.
Then…
"Wow"
| | |
| --- | --- |
| | |
|  Awamori (Okinawan "shochu") shop |  Okinawa noodle restaurant |
Though it was closed, there were some Okinawa shops and restaurants.
The roof  and clothes at the entrance of the shops create an atmosphere of Okinawa.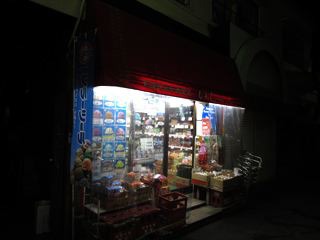 Found "Blue seal ice cream shop"
There was a small grocery shop, and it had Okinawan famous "Blue seal" ice cream. It looks delicious, but they didn't buy them because it was cold out there. They took some Okinawan cup noodles and cute red chopsticks there.
Walking for a while, they found a fat cat.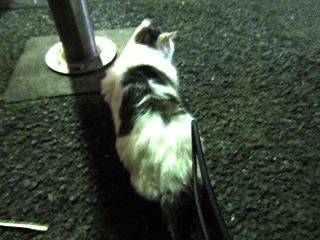 Cute tabby cat introduced them the Okinawa street.
Following after the cat, they wandered further into the narrow dark street.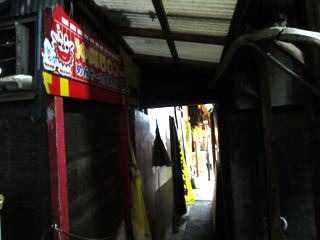 Is there anything in the back??
Taking a tentative step toward……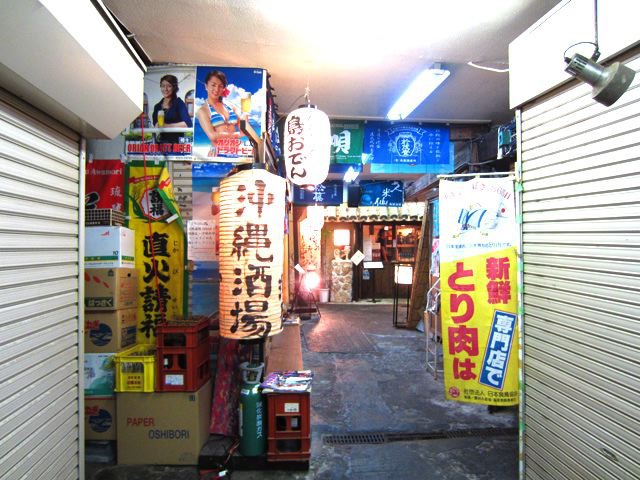 Wow!  Many attractive Izakaya restaurants!
On the back of the narrow dark street, there was a big space spreading and some restaurants under bright lights.
Actually this is the main place of the town!
| | |
| --- | --- |
| | |
|  Let's go and drink! |  With good atmosphere! |
Because they had come here all the way, so they decided to go drink and enjoy the Okinawan food at one of the Izakaya restaurant.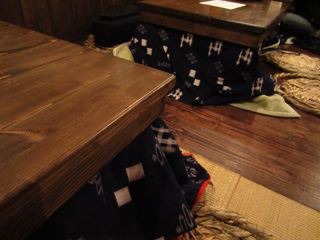 This is a table inside.
The inside was beautiful traditional Okinawan style. And the price of all the menus looked reasonable.
First, the staff brought some appetizers immediately.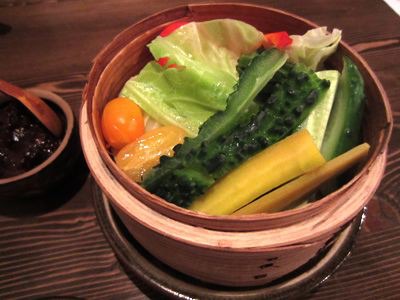 Okinawan steamed vegetable sticks as appetizer.
Actually, because of the healthy food like this, the life expectancy of Okinawan people is the longest in Japan.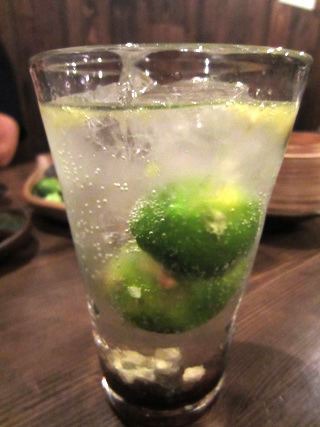 Citrus depressa soda
It's really delicious!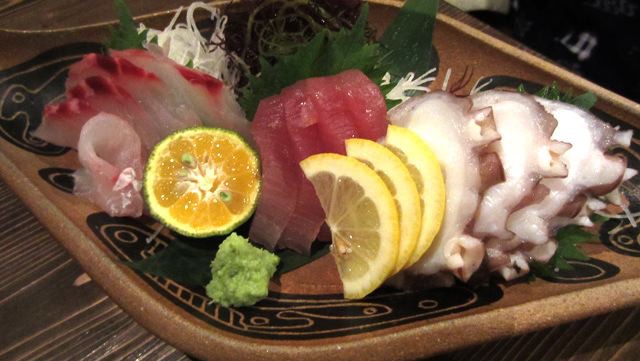 Dish of sliced raw fish
| | |
| --- | --- |
| |   |
|  Deep-fried taimo |  Deep-fried Okinawan fish |
Each of the dishes were so healthy, warm and delicious. That's the Okinawan taste.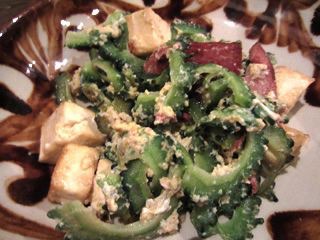 Goya Chanpuruu
The staple dish, Goya Chanpuruu was so homey taste it was so good.
All the items of the restaurant was Okinawa style, including dishes, meals, tables, furnitures and musics.
It was really calm and comfortable, they really enjoyed Okinawa in Tokyo, even where only 2 stops from the one of the biggest station in Japan.
With quite good feeling, they went out the town late at night. It will definite be one of the best memories for them.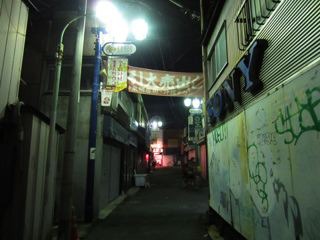 Now we have seen a small Okinawa in Tokyo. What do you think?
I've never known about this place before, but it looks really good!  😮
I wanna go there someday and I would like to recommend you to go there if you don't have any opportunities to go to real Okinawa.
Also, I would be grateful if you let me know about an unique small town in your country.
Source: Daily Portal Z
This is JAPAN Style!