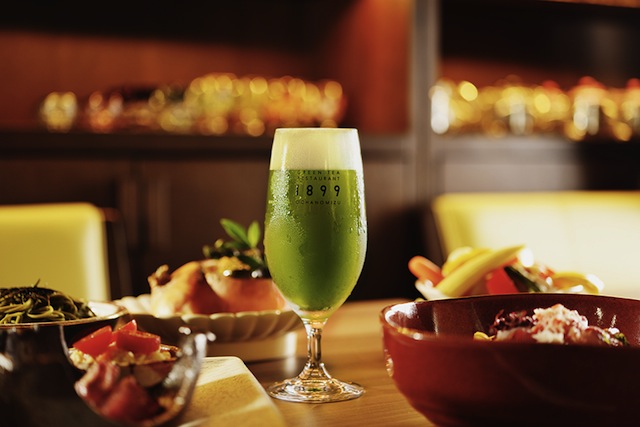 Have you ever had "matcha beer"? Lately it's been all the rage in Japan, but frankly I had even never heard of it. As we can easily imagine, it is a kind of beer with a matcha infusion. Sounds weird and looks a bit like a green smoothie, doesn't it? I think I'd have to be kind of brave to sample it, but still I 'm very curious!!
According to the original article, you can find matcha beer quite easily all over Japan, and a lot of people seem to have posted their reviews about matcha beer on twitter. There seem to be both pros and cons.
"Great for refreshment after a hard day's work."
"Tasty stuff!"
"Matcha makes beer taste smooth and mild."
"The flavor of matcha is too strong and it was not like drinking beer."
"Complicated flavor. Difficult to explain."
Green Tea Restaurant 1899 Ochanomizu, located in Tokyo, is one of restaurants serving matcha beer. They blend their house special matcha paste with beer, and their matcha beer (¥720/US$6.4) is the most popular alcoholic beverage at dinner time.
Hmm… Now I am really wanting to sample and evaluate matcha beer myself!!
Green Tea Restaurant 1899 Ochanomizu
3-4 Kanda Suruga-dai, Chiyoda-ku, Tokyo
Tel: 03-3251-1150
(I browsed through their whole menu, and everything looked super delicious!!)
Source: YouPouch
Author: Junko
This is JAPAN Style!