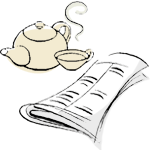 — ABOUT  Wasabi Stories… —
"Expectation of others Helps You to Grow"
Today's story-teller is professional golfer [W:Isao Aoki] who was picked up in the previous post.
In the beginning of the story, Aoki analyzes his personality and says, "I was reckless when I was young. Although I was coward, I felt like I was ruling the world. Feeling some rivalry with others is a sign of coeardice."
He became a professional golfer when he was 22 years old. Since he was still young, he mistook himself that he had become full-fledged. Being up in the air, he kept being eliminated from the match in the preliminaries.
Then he realized that he could not become a professional if he could not play in the game. However, he did not perform well. He began drinking and gambling heavily to let off steam.
Then he managed to make it through the preliminaries. However, he could not perform well at all when he had chances in the championships.
In the end, he lost himself and resigned from Hanno Golf Club that he had been in for 6 years.
There was a man, Tanabe, who contacted Aoki at that point. Tanabe could not bear to see how miserable Aoki was any longer.
Tanabe used to own a golf practice range. So he invited Aoki to practice in his range.
Tanabe said, "Aoki, why don't you come to my range? You do not have to take lessons. I will pay for your life expenses. Why don't you play golf as much as you want and focus on winning as cash awards?"
He took this offer and started living at Tanabe's. There he could focus on playing golf without having to worry about money.
He was a penniless dependent. However, he was dressed to kill, and he drank a whole bottle of whiskey when he went out.
Aoki says, "I did not have room to think about his budget, conditions and so forth at that time. I heard that Tanabe begged her to give him half of his pin money to him and let him spend remaining half on me. He told her that he wanted to give me a chance to play golf as much as I wanted. He  died in 2000, aged 68. I owe him what I am to him."
The NIKKEI 02/11/2010 by Isao Aoki (professional golfer)

You should follow me on Twitter.