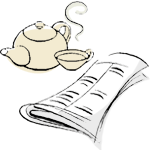 — ABOUT  Wasabi Stories… —
"Be Able to Deal With Things on Your Own"
Today's story-teller is chief priest of Horyuji temple Genmyo Oono.
"Having shallow knowledge is fine, but you have to expand your academic world as much as possible. It will do good for you after you turn 50."This is Buddhist scholar Shoho Takemura's words.
Oono describes him as a person of virtue who would help shape you as a human being by just interaction.
Oono took lessons from him when he was at [W:Ryukoku University]. Sometimes he spent entire class of 90 minutes writing explanations in Tibetan on the blackboard. Oono says his classes were quite stimulating.
As Takemura said, shallow and wide general knowledge he gained during university was quite helpful for him afterwards. It helped him to see Buddhism in three dimensions and it also helped him to be able to handle a broad range of subjects of lectures and topics of conversations.
Being in his fifties, he is finally realizing what he learned when he was younger is doing good for him.
Oono says, "Takemura told me to come to see him only when I was in real trouble. I do not have a chance to see him anymore since he passed away 6 years ago. But here I am. Thanks to Takemura, I can deal with anything on my own now."
The NIKKEI 01/23/2010 by Genmyo Oono (chief priest of Horyuji temple)

You should follow me on Twitter.