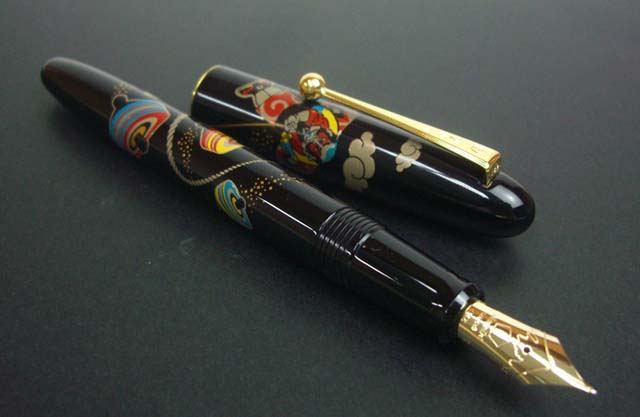 The luxurious fountain pen "Namiki" was made in the year 1930 in co-operation with Dunhill Co., as a product of "Dunhill-Namiki". Even after long time, nowadays it is still highly valued all over the world as a supreme artistic product that conveys traditional Japanese culture. Members of the "Makie association of artists" belonging to Pilot Co. and "Kunikokai" have assisted in its creation.
* Pen nib:  F 14 gold
* Pen holder: Cap: Yellow copper, undercoated and finished with wax-colored lacquer
* Size:  The largest diameter 14mm
* Total length:  143mm
* With converter
[About Lacquered (Maki-e) Fountain Pens]
In the early 20th century, the penholder of fountain pens was made of ebonite, which would in time change to brown and lose luster.  After years of study, we focused on durability of lacquer ware, and developed the material applicable for fountain pens.  We named it lacquernite and obtained patents in Japan, the United States, the United Kingdom and France, enhancing the fame of Pilot Fountain Pens.  In addition, we furnished them with Maki-e, a Japanese traditional lacquer art, for the European and American market of the high-end fountain pens.  In 1926, Mr. Gonroku Matsuda, who later become a professor of Tokyo University of Arts and living national treasure, joined the company as a Maki-e instructor, organizing the manufacturing group named "Kokkokai" with more than 80 Maki-e artists, in-house or not, and instructed them for improvement of designs and skills.  Keeping the legacy of that time, the Maki-e artists of today carefully finish the pens, one by one, with their accumulated skills under the name of "Kokkokai."
Please look at this beautiful fountain pen and others in our online store under the stationery category!

If the eBay link is dead and you have questions about the item, please contact me HERE.
This is JAPAN Style!