Good news for "moe" style manga/anime fans! Suwa city in Nagano prefecture issues some "moe" style official certificates. What kind of certificates? What do they look like? How "moe~!" are they? OK, I'm gonna show you one by one

1) Marriage certificate
When you submit your marriage notification in Suwa city, they give you a marriage certificate as a small wedding gift.  These two "moe" marriage certificate designs are quite striking while other ones such as fireworks and scenery are ordinary looking. The girl character in kimono, "Suwa hime(=princess)", is also used for their town guide app, "Suwa Navi", and seems to be widely loved by Suwa residents. If you have a plan to get married in Japan, why not submit your notification in Suwa city?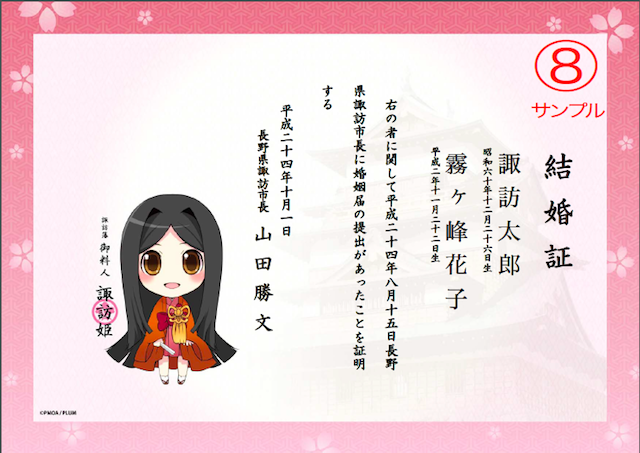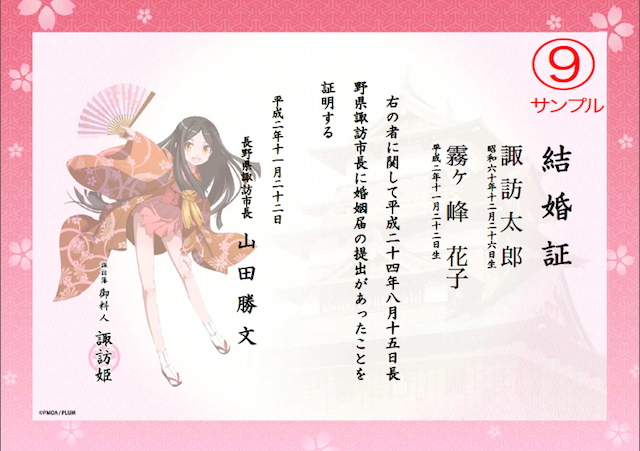 2) Resident registration card
Suwa residents 15 years and older can obtain this registration card. If you get it with your portrait picture on it, it is acceptable for use as an official ID just like your driver's license. What's more, Suwa offers it for free until the end of 2015! Now are you feeling like moving to Suwa city!?

Source: Netlab (1) (2) / Suwa city official website
Author: Junko
This is JAPAN Style!