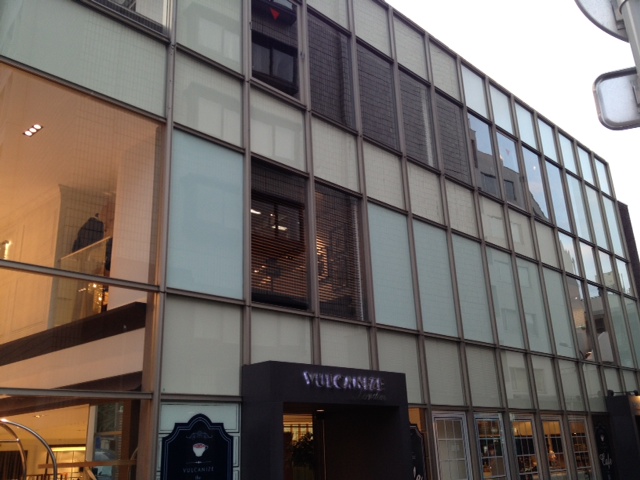 Dry Cleaning & Fashion Care Specialty Shop from London, "JEEVES", opened their 1st store, "JEEVES TOKYO", in the British Arcade Shop, "Vulcanize London Aoyama" (Minami Aoyama 5, Minato-ku) on Kotto Dori, Minami Aoyama, about 2 months ago. "JEEVES" was founded in 1969 in London. It stands out for its special history that in the year 1980 it received the Royal warrant of Prince of Wales (Prince Charles). At the moment it develops 12 shops throughout London and another 10 shops are located in the US, Hong Kong, Singapore and Indonesia. And number 11 is now in Tokyo. The location was chosen for its high fashion consciousness. The service is targeted to the rich living in the area and those who have the style to wear high-quality garments which last long.
A list of the dry cleaning menu looks like, business shirt (800yen~)(US$8.1), suit (7,000yen ~), lady's blouse (2,500yen ~), dress (4,000yen ~), coat (7,000yen ~), evening dress (15,000yen ~) and etc. They offer also maintenance and repair of leather products and others. Their pickup and delivery service area is now expanding but is available in Shibuya-ku, Chiyoda-ku, Chuo-ku at the moment.
The mainstream customers for now are those around in their 50s. They bring in a tailor-made suit or an evening dress. According to the Managing Director, Mr. Okuno, the skills they own are a top class technique; they know how to remove the sweat and the skin natural oil. This is essential for the cloth maintenance in Japan. They also pay attention to protect fabrics as well as colours of garments.
The Japanese dry cleaning service is a hit also abroad and the number of users of the service is much higher in Japan than in UK. I always believed the Japanese dry cleaning technique was the best. However the service of "JEEVES" sounds very special and makes me wonder how this familiar service with a foreign origin will be received in Tokyo. Hope to see that their service will stand out also in Tokyo.
Source: Shibuya Keizai Shinbun