As you know, "Super Mario Bros." has been one of the most popular Nintendo game in Japan since 1980s, the series have been still released in various versions like "Super Mario Bros.Wii" or "Super Mario All-Stars" all over the world.
One day, the writer of this article saw an event of  "live-action version" of Super Mario, she got the idea to be the Super Mario herself then, so she tried to be and went out to Shinjuku Tokyo, and reported a day as Mario's day off.
I would like to introduce you such interesting report.
First, she bought a costume of Mario at "Don Quijote" store, at around 10,000 yen (US$125).
 

 What's "Leg Avenue"??

 Is it he or she?

 
 

The material looks a little cheap…

 

The moustache was sold separately.
Anyway, she got it on in a bathroom at a department store.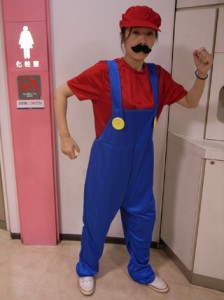 Super Mario in live-action version!
The temperature was around 30 degrees that day. The cheap material did not absorb any perspiration, clung damply to the body, and the moustache looked stifling.
The places walked around were Shinjuku and Shibuya in Tokyo. As there were so many people walking, she believed she would get lost in the crowd and people don't notice her.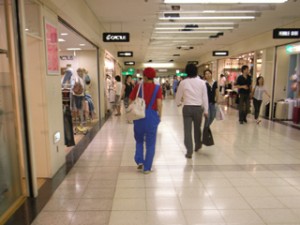 Putting that aside, let's enjoy playing the role of him!!
The role she would act is his day off.  Let's imagine what does he do on his day off.
Umm… "OK! Let's go to the basement food floor of the department store first."
 
 

Mushrooms!

 

Mamma mia!!
Oh, there are variety of mushrooms here!  Which one is good for dinner tonight?
Mario doesn't have to think which one is the strongest to beat his enemies on his duty, because today is his day off!
Then he found so many flowers on the same floor. He cares so much about his duties.
 

Flowers!

 

Wanna get them for the work.
He would think "Oh, I can spew fire with all these flowers and beat Goomba and Koopa from a distance…"
Let's forget the work today, Mario. Let's go to another place.
The other day, a writer Mr.Kudo gave an information that there is a structure which constitutes the world view of Super Mario Bros. in Shinjuku.
OK, let's go there.
After all, he seems he cannot forget the duties even in his day off….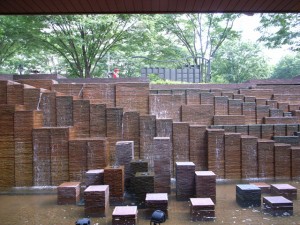 Oh, there it is!
It's just like the world of his work place!
Probably he would like jumping on it unconsciously when he sees like this, but there was warning not to climb on them.
Well, forget about it, and let's go to the next place.
 Then he got on the Yamanote line toward Harajuku, Shibuya.
Are people looking at him? He doesn't care anymore! Whatever you say, he is the strongest man in the world, enough to beat Bowser.
He found a big building like a foreign castle between Harajuku and Shibuya.
 

 Princess Peach is in there?

 

It's a little far from here…
He tried to get closer to the castle, but the way toward the castle was too complicated to be there.
Because it was so hot and was his day off that day, he gave up to be there and saw it from a distance through a fence like this.
These are the Mario's day off the writer acted in live action version. What do you think?
I think Mario cannot forget his duties to beat enemies and rescue Princess Peach even in his day off.
By the way, I think he is originally a plumber… What about his another duty as a plumber?
Anyway, I believe that he is the most popular plumber with a strong sense of justice in the world.
Source: Daily Portal Z
This is JAPAN Style!