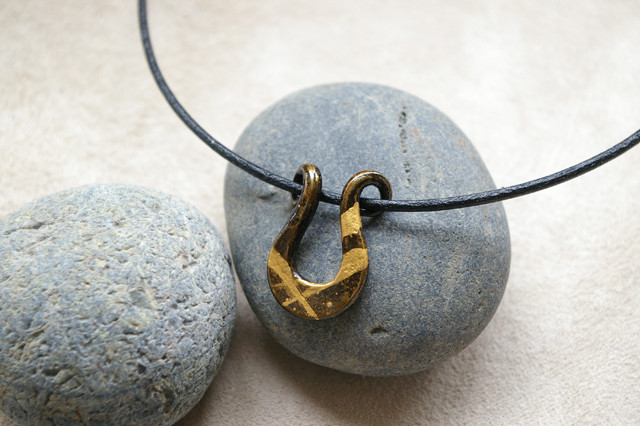 Bring happiness to your life with our new horseshoe necklace!
Hand crafted in Japan, this necklace with its horseshoe shaped charm is a symbol of luck and happiness. Different cultures have different beliefs about the horseshoe, all of which associate with luck. In Japan, the shape of the horseshoe is a symbol for road safety; it is also believed that the horse will attract luck in the form of money.
This horseshoe necklace is made with iron and finished with lacquer and gold accents to give it a sleek elegant look. One can see the traditional Japanese iron welding technique meeting the modern art (use of the golden color) in this piece of artwork. The golden lines on the horseshoe complement perfectly with the light amber brown background of the iron, which all are nicely held on a black leather string.
A nice piece to work with any outfit or a simple gift, this product is now being sold in our ebay store! Please browse through the iron category to see all the other beautiful iron artworks as well.

If the eBay link is dead and you have questions about the item, please contact me HERE.
This is JAPAN Style!