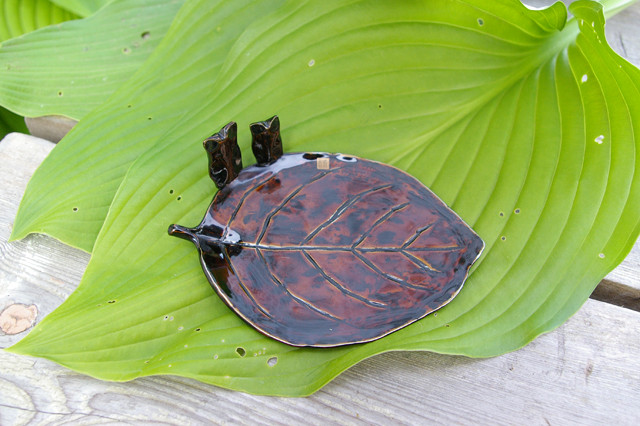 Part of the Studio RYU (located in Shizukuishi) iron collection "JAPAN IRON", the Japanese Iron Tray is crafted by using traditional iron welding techniques, finished with a layer of lacquer to make the tray shiny. The same quality of lacquer was used for the Kinkakuji Temple. The mixture of the old traditional iron and quality natural lacquer creates this beautiful piece of artwork.
The tray is in a shape of a leaf with two small owls standing on the edge of the leaf. The owls represent fortune and wisdom. The shininess of the lacquer makes the tray act as a mirror; the reflection of the two owls can be seen because of this. The tray can be used for displaying accessory, returning change to the customers at stores, or simply as a display tray in a home.
Below is a video made by the producer of this product, showing the method of creating iron works. The process is very beautiful, so please take a look if you have the time!
And, this cute tray is available in our ebay store now. Please take the time to browse this item in our store, as well as our other iron products located under the iron category.

If the eBay link is dead and you have questions about the item, please contact me HERE.
This is JAPAN Style!