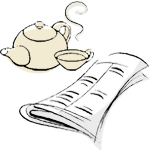 — ABOUT  Wasabi Stories… —
"Everything depends on how you feel it in your mind"
Today's story teller is a musician, Kunihiko Kase.
He started his story with a memory of a pajama.
"Whenever I see this kind of pajama, I remember the hospital room in Tokyo Women's Medical University Hospital where I stayed for esophageal cancer treatment."
In 1994, when he was 53 year-old, he found that he had esophageal cancer.
He immediately went through eight-hour operation with three operating surgeons.
His esophagus was removed and stomach was cut in half to use as esophagus.
The operation was a success.
When he went back to a general hospital room, he heard nurses' cheerful voices.
"Look! A rainbow! There's a rainbow!"
"It's beautiful."
"I have been working here for more than 20 years but never seen a rainbow before."
Kase looked at the sky, and there it was, a rainbow appeared and disappeared three times.
"It gave me blessing."
He instantly felt so, and decided "I am going to a new life from now on" with strong spirit.
At the hospital room, he wore a pajama in the night but he took it off during the daytime and wore T-shirt and shorts.
Although he was put right tubes on his chest and stomach after the surgery, he played the guitar and lifting weights in casual clothes during the daytime.
His doctor saw how Kase doing and said "I have never seen a patient who stay hospital like staying at Hawaiian resort."
"Doctors can cure a disease as much as 50 %. The rest 50 % depends on the patient's mind. Mr. Kase, I am sure you get better."
Kase left the hospital only in three weeks.
Kase's word,
"My way of thinking has changed since I had cancer. I started thinking that I have to do music to cheer people but not for myself."
He thinks that thanks to the cancer, he has been stayed healthy for 15 years since then.
The NIKKEI Oct/19/2009  by Kunihiko Kase (musician)

You should follow me on Twitter.