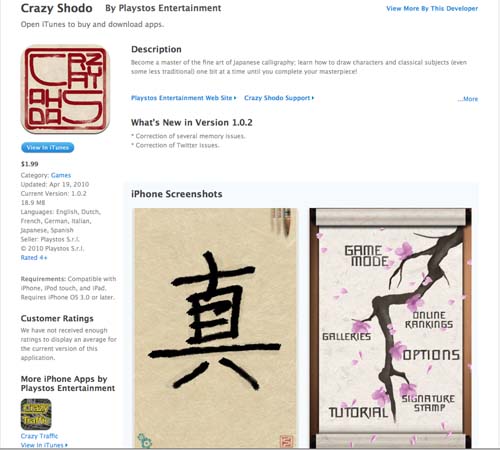 If you have an iPhone and want to learn how to draw kanji, you should check this application.
"Crazy Shodo" is a Japanese calligraphy game makes you draw kanji and Japanese style illustrations, and create your personal signature stamp.
This is how it works.
The video showed Japanese version but also English, Dutch, French, German, Italian, and Spanish are available.
According to some reviews, this is not serious shodo (Japanese calligraphy) learning tool but for the kanji beginners, it will be useful to learn the stroke order. And it is fun as a game.
Your drawings are saved in a gallery and you can share them on facebook or twitter.
Crazy Shodo: http://itunes.apple.com/us/app/crazy-shodo/id364976798?mt=8#
This is the JAPAN Style!

You should follow me on Twitter.