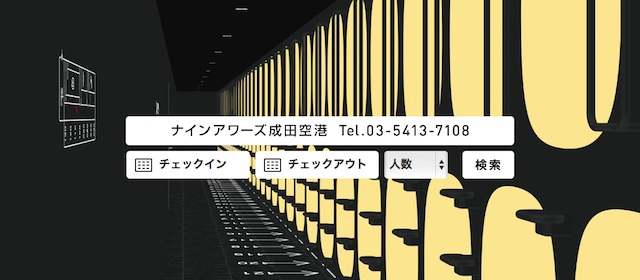 Japanese capsule hotels seem to be very intriguing to foreign tourists. If you have stayed in normal capsule hotels and want to try something more distinctive, the hotel 9h (nine hours) would be the perfect choice for you! 9h Kyoto has been very popular for its uniqueness since opening in 2009. And a new "9h" will open at Narita Airport on July 20th! This new location is just a one minute walk from the terminal 2 Station. It sounds super convenient, doesn't it?
The concept of this hotel is quite straightforward. Most capsule hotel users usually stay for only nine or ten hours. The name "9h" signifies "1 hour for a shower + 7 hours for sleep + 1 hour for grooming". They offer useful options (24hr check in, day use, showe-only use…) at reasonable prices (the rate for one night stay starts from ¥3,900 = apprx. US$38.18).
The most outstanding feature of 9h is its stylishness. Check out the picture above! They look just like the inside of a spaceship that appears in science fiction movies. See more details on their website in English –> Nine Hours website

What's more, 9h will offer a special "¥1,000 (= apprx. US$9.85) OFF" deal from the grand opening day until July 31. This special deal can be applied for the first 50 rooms/day, and only when booked with a reservation. Don't miss it! 😉
Source: Youpouch
Author: Junko
This is JAPAN Style!