Today, I would like to introduce an article about a visual kei band, which is grabbing attention of people in Japan.
This very unique air band is called "Golden Bomber", and their best album will be sold in the U.S., U.K., Germany, France, Korea and Taiwan next month!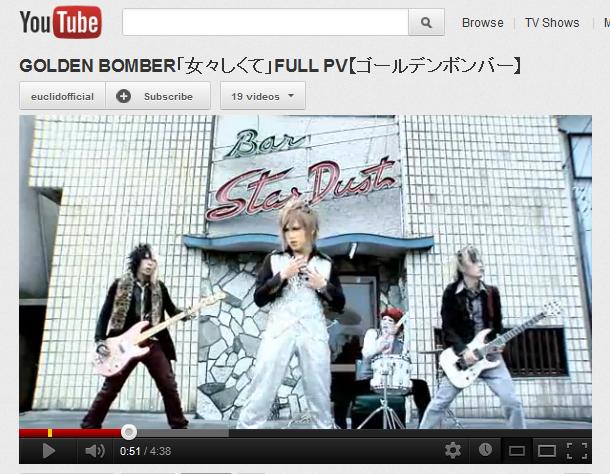 (※This is a screenshot, taken from youtube.)
According to the article, Golden Bomber was formed in 2004.  It is a band, and it seemed they consist of 4 members; vocal, guitar, bass and drums.  But actually, all members don't play musical instruments apart from vocal, so it is purely an air band (well, apart from vocal)!  Visual kei, but an air band!  This is why they are so unique~!
Here is one of their official movies from Youtube.
As they are famously known for their hilariously funny live performance, they do have strong comedy element.  But their music itself, all composed by vocal, is also grabbing people's heart.  According to an music distribution service, Golden Bomber won the first place in visual kei masterpiece song ranking recently, going beyond the charismatic Japanese rock band.
As they are getting so popular here, I hope they will be well loved all over the world, too~ 🙂   Some of you may have already been a fan of them, but if you become interested in them now, please listen to their music sometime.
What do you think about today's article?
I'm looking forward to hearing from you 🙂
SOURCE:  web R25
This is JAPAN Style!