Today, I would like to introduce an article about interesting beer-related goods, which will be available soon in Japan.
In Japan, we tend to have more drinking opportunities in the beginning of academic/fiscal year such as welcome drinks for new starters and flower viewing drinks.  Of course, it is a fun to have such parties at alcohol serving premises like Izakaya with many friends and colleagues.
But, drinking at home with your close friends or loved ones is becoming more and more popular in Japan. (so that you don't have to worry about the last train service or driving back to home!)   For such people who enjoy drinking at home, I'd imagine this item, which will be on sale from a Japanese toy manufacturer at the end of this month, will be a must-have.
So, this is an image of the item, "Jokki Hour".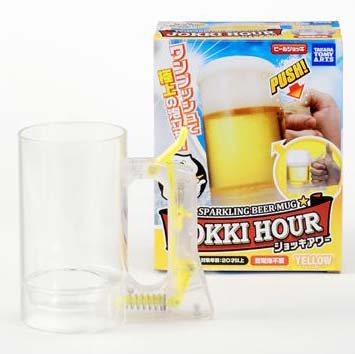 Apart from the handle part, this mug looks like ordinary beer mug.  But, on the top of this handle, there is a lever, and this lever helps to create a head of beer as many time as you want!
So, let me explain about secret mechanism of this item; when you press the lever, built-in hammer hits the bottom of the mug, and the vibration creates nice and soft head of beer.
This sounds awesome, I definitely want to try this ~♪  According to official website, too much use of this lever makes your beer flat, so we have to be careful about this Lol.  FYI, this item is 1,575 yen (US$ 19.62),  Not too bad pricing, isn't it?? 🙂  I would love to have some for BBQ in early summer this year☆
What do you think about today's article?  I'm looking forward to hearing from you!
Source: walkerplus
This is JAPAN Style!