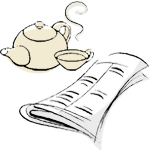 — ABOUT  Wasabi Stories… —
"If you take a book to an uninhabited island, take this! "
Today's story teller is a media artist Kazuhiko Hachiya.
He talked about a unique book titled "The Sixteen People Who Live in an Uninhabited Island".
The book is based on the true story happened in 1898, where a sailboat with 16 crew went aground off and the crews were drifted to an uninhabited island.
The boat was broken to pieces. The island is nothing but grass.
There was no way to call rescue.
To live in the island, the captain proposed four rules to everyone.
1. Live with what we can get in this island.
2. Don't talk about something impossible.
3. Lead a well-regulated life.
4. Try to have a delightful life.
The fourth rule, "Try to have a delightful life" drew Hachiya's attention.
To think normally, living uninhabited island shouldn't be delightful but rather be tragic; however, there is no such pessimism in the book at all.
Hachiya could tell that the crews were full of vitality and have very regular habits with smiles on their faces.
For example, the crews made a loggerhead turtles' farm and became friends with seals; while having a hard self-sufficient life, the book depicts how they were fascinated by the beauty of nature.
Hachiya's word
"Turning to the present people, we are more pessimistic than the crews. The most important thing in survival is 'hope'. Do what you have to do today with smile. Now, we can learn a lot of things from this book."
Incidentally, I bought and read this book.
It was a great book as Hachiya said.
The NIKKEI Aug/ 26/2009  by Kazuhiko Hachiya (media artist)

You should follow me on Twitter.