Lately I often search unique YouTube works to find something interesting to share in JAPAN Style.
I found an awesome Japanese creator's work!
The video below is "SOUR 'Hibi no neiro (Tone of Everyday)'" made by Masashi Kawamura.
The work is nominated by Webby Awards, as "Best Editing" in the category of Online Film & Video.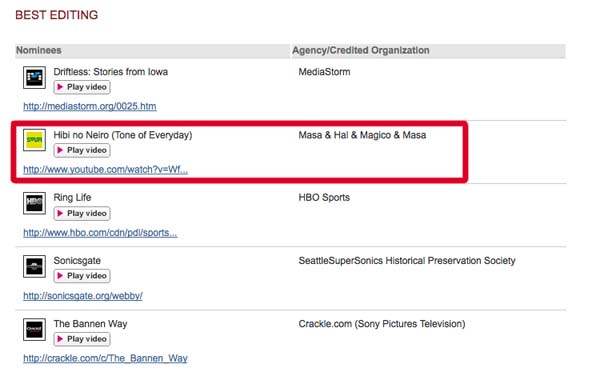 It's hard to describe the work, but it's a music video expressing "human connection" by using webcam movies taken by many people from many countries.
Now, enjoy the movie.
As you can see, it has played over 2.4 million times on YouTube.
It may be interesting to read the comments from various countries.
The movie is also awarded the Best Music in "YouTube Video Awards Japan 2009".
It's just awesome but it must be hard to get people and instruct the poses, and edit so many webcam movies…
This is JAPAN Style!

You should follow me on Twitter.