I enjoy soy milk and when shopping I usually choose an organic unsweetened variety. How about you? If you don't like the characteristic taste of plain soy milk and prefer the sweeter flavored ones, I have great info to share with you! One of the best known Japanese soy food product makers, Kikkoman, has a wide variety of flavored soy milk.
For coffee breaks:
Black tea/ Malt coffee/ Cocoa/ Malt coffee light (cholesterol free, caffeine less, fewer calories)
(from left to right)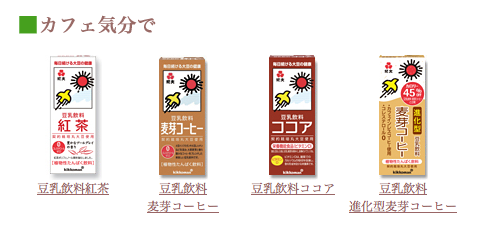 Japanese style:
Matcha green tea/ Black sesame/ Sweet red bean soup/ Sakura cherry blossom
(from left to right)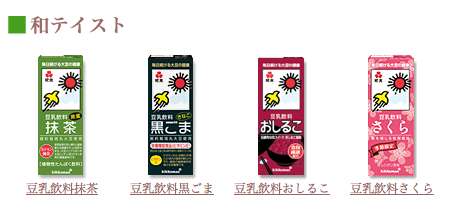 For dessert:
Almond pudding/ Custard pudding/ Baked sweet potato/ chestnut/ Almond
Vanilla ice cream/ Healthy "ramune"/ Lassi/ Calcium enriched/ Orangette
Healthy cola/ Soy charge energy drink
(from upper left to lower right)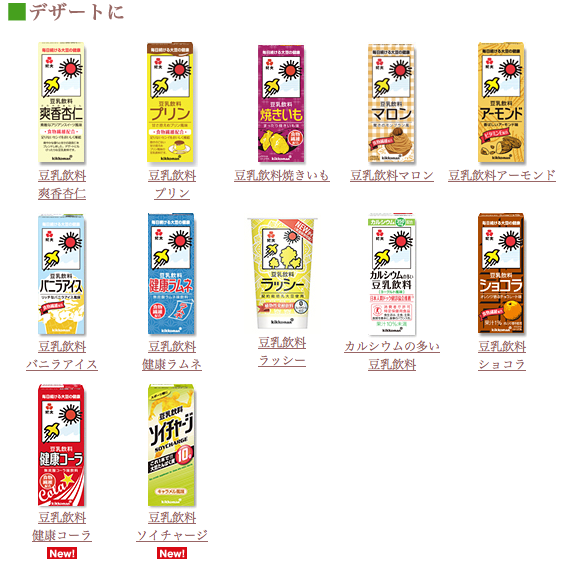 Fruit flavors:
Banana/ Fruit mix/ Strawberry/ Grapefruit/ Yuzu citrus/
Mango/ Melon/ Pear
(from upper left to lower right)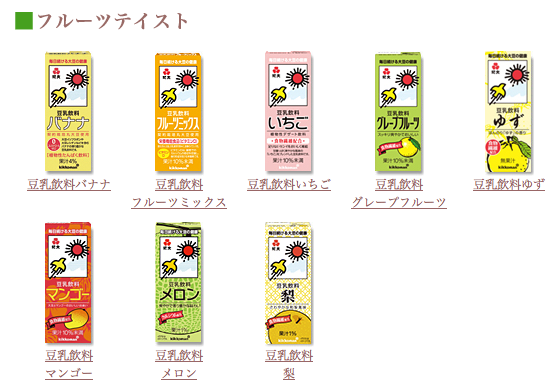 Actually, one of my friends is working on a project to gradually sample and critique all flavors! Here are his personal impressions for some of the Kikkoman offerings .
Sweet read bean soup: No way!
Cocoa: "No". It doesn't have any cocoa flavor!
Yuzu citrus: Unexpectedly, "yes"! Refreshing.
Chestnut: No way! No way! Too sweet!
Baked sweet potato: "No"! This is also too sweet.
Malt coffee: Absolutely "YES"!!
Orangette: Difficult to say "yes" or "no"… but "no" after all 🙁
Healthy cola: It's like cola without soda. Surprisingly "yes".
His conclusion –> Plain one is the best! (lol)
Which flavor are you interested in? The flavor I am curious about the most is "healthy cola". I don't totally understand why Kikkoman decided to add this flavor to their line-up. This friend says that it's good, and other friend says "absolutely NO!" to this flavor. So, when I visit Japan next time, I would like to try "healthy cola" soy milk and judge for myself. I sure Hope this flavor will survive until then…
Source: Kikkoman Soy Foods
Author: Junko
This is JAPAN Style!