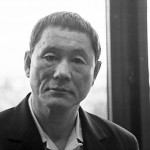 (This is the second part. To read the part 1, click HERE)
Besides his autobiography, more of Kitano is revealed in France.
At the Centre Pompidou, special screening of his films titled "TAKESHI KITANO, l'iconoclaste" is going on till June 26.
Also his art exhibition, "Gosse de peintre -Ekaki Kozo" is held at Fondation Cartier pour l'Art Contemporain, where the visitors can see experimental paintings and sculptures created by Kitano.
Kitano's Work
Kitano said about his exhibition laughing, "It I said it's more than just a hobby, the people saw my work would laugh at me. I think exhibiting my paintings at Cartier is quite inappropriate. …If they call my work child's paintings, it's ok. But if they call them a respectable artist's work, I will feel really embarrassed."
Such his talent of creativity seems to be highly evaluated in France.
Just two weeks ago, Kitano was named a Commander of the Order of the Arts and Letters of France.
Showing joy and excitement on his face, Kitano said,
"I have adored Paris as a center of culture. It's like a dream to me to receive such an honor. I want to make every effort to be the person who deserves this order."
When he came back to Japan after receiving the order, he gave a public interview and humorously showed a toy gold medal on which he wrote "Vancouver" with a marker and made the reporters laugh but at the end of the interview, he showed the real decoration he received.
This is JAPAN Style!
You should follow me on Twitter HERE.