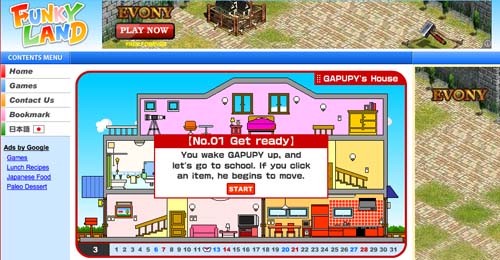 If you are a gamer, visit a Japanese flash game site "Funky Land", where it has original gun shooting, adventure, puzzle, action, typing, simulation and cooking games!
Don't worry about language; there are 15 games that you can play in English.
The most played game series in the site is fashion simulation games, where you play a girl and dress up and make up right to succeed in relationships.
The secondary popular game is cooking game, where you click the kitchen and lead the character Gapupy to cook the assigned food right.
Overall, the game site has a lot of games that women would like but there are some guy games like shooting and adventure too.
This is JAPAN Style!
You should follow me on Twitter HERE.