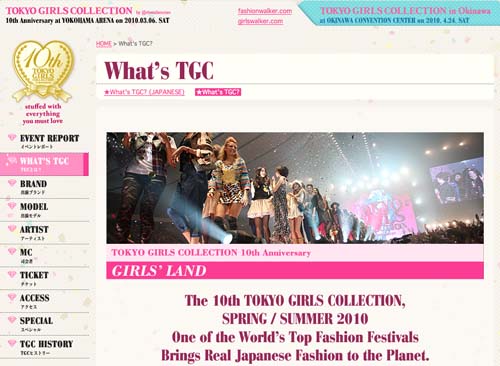 TOKYO GIRLS COLLECTION 2010 Spring and Summer was held last weekend at the Yokohama arena. (If you don't know what it is, please read the previous article about the fashion show.)
In the eight hours fashion event, there were live music performances by popular female artists, Kumi Koda and Miliya Kato too.
The popular brands that appeared on the runway were, CECIL McBEE, LIZ LISA, HbG, ktson, milk fed, Bless Tokyo and more!
According to the commentator of the show, this season's trend is tiny flower print in "vintage", "cow girl" and "military" themes.
To see the pictures of the stage, visit the official website and click the middle picture in the "EVENT REPORT".
This is JAPAN Style!
You should follow me on Twitter HERE.