On the third day since the earthquake and tsunami, TV news broadcasts a scene of three elderly people being rescued from an isolated and damaged house in Iwate prefecture. One is a man, and the others are women. An interviewer asks the old man, "Are you OK?" And the old man answers with a bright smile, "Yes, I am OK. I experienced the Chilean tsunami too, so I'm OK. Let's reconstruct Japan again!" (In 1960, a tsunami due to the Great Chilean earthquake hit Japan, and 142 people were killed.)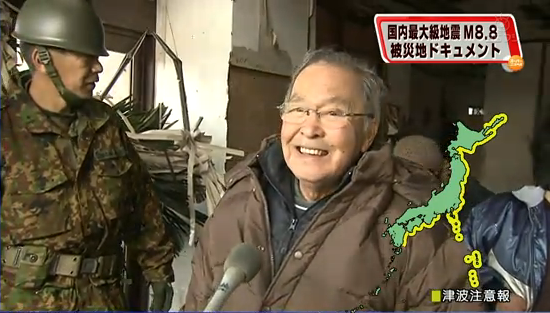 Just after the TV news,  the video of this scene is uploaded on YouTube. Since then many words of praise have been posted; "What an encouraging word!", "It moved me!", "We younger generation will surely reconstruct Japan. Leave it to us!", "Grandpa, you're cool!" The comment counter is now over 1,500,000.
This is JAPAN Style!