Today, let me introduce a blog post from my favorite Japanese blog again.
Do you know 'Okinawa Prefecture' in Japan? The weather is warm through the year and it is a popular sightseeing site.
The blogger found a unique advertisement in Okinawa. The picture of the advertisement is this.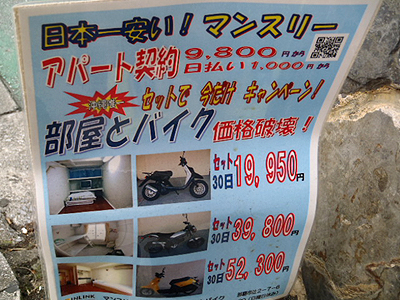 It is an advertisement of a real estate agent for a monthly rental apartment. It says that they will rent out a moped along with the apartment! (It does not mean that a moped comes with an apartment in all over Okinawa. It is just a service of the real estate agent.)
Prices are cheaper in Okinawa than Kanto. Of course the average rent is cheaper in Okinawa than Tokyo.
Even so, it is way too chap for an apartment with a moped! And the rent of the apartment on the top row of the picture is about US$245 monthly. And a moped comes along with it. LoL
I wanted to tell you how cheap the rent is, and even more than that, I wanted to tell you how unique the idea of adding a rental moped to the apartment is.
Furnished apartment is common, but an apartment with a rental moped is unusual, isn't it?
Instead of a moped, it might be interesting to have an apartment with a bicycle, computer, cell phone, or a romantic partner. LoL
What about your country? If you know any interesting thing that comes along with a rental apartment, please let me know!
Source: Daily Portal Z
This is JAPAN Style!