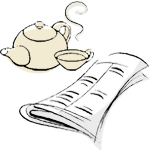 — ABOUT  Wasabi Stories… —
"Don't Turn Away From the Reality"
Today's story teller is a politician, a member of the House of Councillors, [W:Tokio Kano].
Titling "Talk on Parent", he wrote about his mother, Yachiyo, who was a piano teacher.
When he was five years old, his father passed away, and his mother raised two sons by herself.
Before his father's death, they had hired maids and his older brother had gone to a private primary school; however, the wealthy life turned upside down.
Since it was right after Pacific War began, Yachiyo couldn't teach piano openly because it was a "western thing".
Although they sank into poverty, Yachiyo fed her sons by working at a printing factory.
"If my husband was alive…" No wonder if she said so, but Yachiyo never whined.
"She hated "if". In any situation she stayed positive." Kano said.
"Everyone has good side. Try t look at that."
He has never forgotten this word from his mother.
She passed away before Kano became a politician; however, the word from her mother who worked hard both outside and home is still remains in his heart as his precept.
The NIKKEI Jun/4/2009 by Tokio Kano (politician of the Liberal Democratic Party)
You should follow me on Twitter HERE.