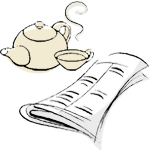 — ABOUT  Wasabi Stories… —
"The Book the Gave me Courage to me"
Today's story teller is a famous bridal fashion designer, Yumi Katsura.
In the article, she wrote about the book saved her when she ran up against a wall.
Female entrepreneurs are not rare today but when Katsura opened business in early 1960s, it was very rare, and she was baffled by the man order.
The people whom she dealt for negotiations and pioneering suppliers were all men.
Most of the cases, she was turned from their doors, and even if she could to talk to some, they gave her glacial stares just because she is a woman.
Being exhausted in front of the thick man order, she met a book titled "Hanauzumi (English title: Beyond the Blossoming Fields)" by Junichi Watanabe when she stopped by at a book store.
As soon as she saw the cover saying "the story of the first female doctor in Japan", she got interested and bought the book.
It is a true story about the first licensed and practicing doctor in Japan, [W:Ogino Ginko].
When she was young, she was contracted gonorrhoea (there was no cure at the time) from her husband, and she became infertility.
After the embarrassment of having to visit male doctors, she resolved that she would become a doctor to help women in similar circumstances; however, it was in 1870s to 80s, when there was strong sex discrimination.
She was the only woman in the medical academy, and just because she was a woman, they rejected her taking exam.
Resolutely, she faced the offense and overbearing alone, and obtained the license.
Reading this book, she was greatly impressed to know there was a woman who was enduring harder difficulty in the past.
Katsura's word,
"The book made me reflect that I didn't have disease or faced such terrible discrimination. 'I'll bear up too.' Whenever I run up against a wall in business, I read it again. The book is my treasure that gives me courage."
The NIKKEI Jun/2/2009 by Yumi Katsura (bridal fashion designer)
You should follow me on Twitter HERE.