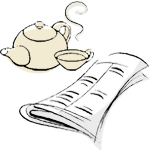 "Meeting a Great Teacher is Priceless"
Today's story teller is a manga writer Riyoko Ikeda.
She is famous for her work [W:The Rose of Versailles].
Her story is about her teacher from junior high school.
Since she was a school girl, she has liked reading books and had a little interest in society, so when she was 9th grade, she joined this school club where students learn politics, economy, Japanese sociology and history.
When she was a child, it was the time of poverty after the war, and there was a student in her class who couldn't bring his lunch and stole someone's.
She always wondered why there was difference and where this difference came from.
At the club, the teacher assigned the students to read a book titled "Japan's Thought".
The book was beyond her reach of her understanding but she finished reading to the last page.
"That was the first time I tried reading something beyond my comprehension. I tasted the excitement to finish reading one difficult book."
Ikeda recalled the feeling at the time. She also says the word the teacher wrote for her graduation message card impressed her. "The weak's words are always right. Pursue the social truth."
Ikeda concludes "I think a meeting of a teacher and a student gives an absolute significance in both the teacher and the student's lives."
The NIKKEI Apr/23/2009 by Riyoko Ikeda (manga writer)
You should follow me on Twitter HERE.