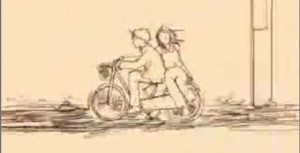 Some people really show their talents in video sharing websites. The following videos are parapara-manga -flip book work and hand drawn animation made by Niconico-douga users. Both are taking the story of a song titled "Sharin no Uta (The Wheel Song)" by a Japanese rock band, Bump of Chicken. The song is about a young sweet and bitter romance, where a boy in a small town takes his girl friend to a train station to see her off. She is leaving the town but they promise to see each other in the future. (The MV with English sub is at the end of this article.)
This animation was drawn with mouse.
Next one is drawn on books.
Both videos look like there is a lot of work and time involved to create them.
It seems that many listeners especially young people relate to the story and expressions in the song. That's why the song motivates video site users to make parapara-manga or animation based on the story.
The MV for "Sharin no Uta" with English subtitle
This is JAPAN Style!