6th of January was shokan, the second coldest day in Japan. The coldest season is yet to come; however, it is still winter and cold for us. An article for today is about the first swimming session held on the New Year's Day in such a cold day.
According to the article,  the first swimming event of the year, which was held in Odawara city, Kanagawa pref., marked 88th year this year. The event was held at Miyuki no hama coast, and ships with tairyo-bata or big-catch flag, which is upheld to indicate a large catch on their return to their port, stayed offshore  in order to create vibrant atmosphere on the silent New Year's Day. It seems Japanese drum was played by a Japanese drummers' group, 'Shu' this year as well.
Here is an image of the first swimming event, taken from official website of the city.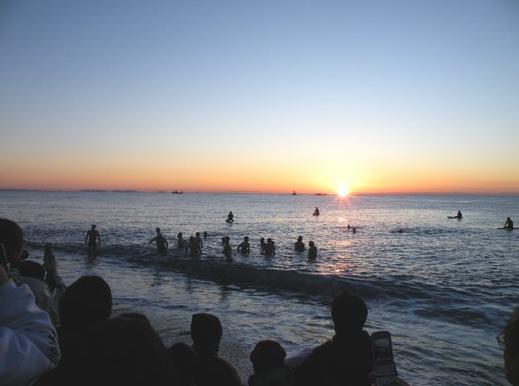 Also, it is not the one performed on the New Year's Day, but I found a movie of drum performance by the drum group,  'Shu' at other festival, so I hope you enjoy the movie, too:-)
Anyway, people who joined the swimming event were male members of the Odawara Swimming Society and other local swimming club, aged 17 to 65.  This event was held not just for fun, but to pray for ocean safety and health of the year.  What they actually do for this event is to start swimming all at once when the outside temperature is 5 degrees and water temperature is 15 degrees at sunrise, and do ceremonial hand clapping by making a circle in water.
This kind of New Year's swimming event is held nationwide in Japan.  Well, I have only participated in one held at  indoor pool myself (・_・;)  I have heard of some European countries like the Netherlands and Italy do hold similar New Year's swimming event, but I wonder if there are any other countries do the same in the North~??
If your countries do hold this kind of event in winter like us, please let me know.  I'm looking forward to hearing from you☆
Source: Odawara Hakone Keizai Shinbun
Picture: http://www.city.odawara.kanagawa.jp/kanko/event/JAN/hatuoyogi.html
This is JAPAN Style!