Several months ago, I wrote about my trip to Mt. Takao (Takaosan in Japanese), do you remember?
The times are right for viewing autumnal leaves in Japan. Because I had wanted to visit a colored mountain, I went to the Mt. Takao again last Sunday.
Mt. Takao is about one hour away from Shinjuku, Tokyo by train. It is in Tokyo but the riches of Nature still remained there.
I left my house to get there at 10 in the morning, and when I get there, it was already crowded!
Everyone came to the mountain to see the autumnal leaves. Since the weather was fine, a lot of people including children to elders were there.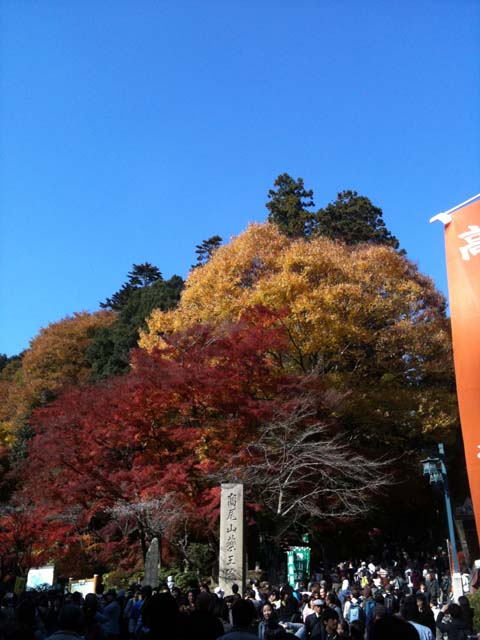 Climb the mountain from here. It was fine weather!
Last time I took a cable car, but this time, I decided to walk to the top and take the cable car to coma back.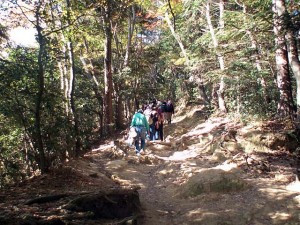 Climbing up an endless pass.
There was paved pass on the way.
Many women were climbing too.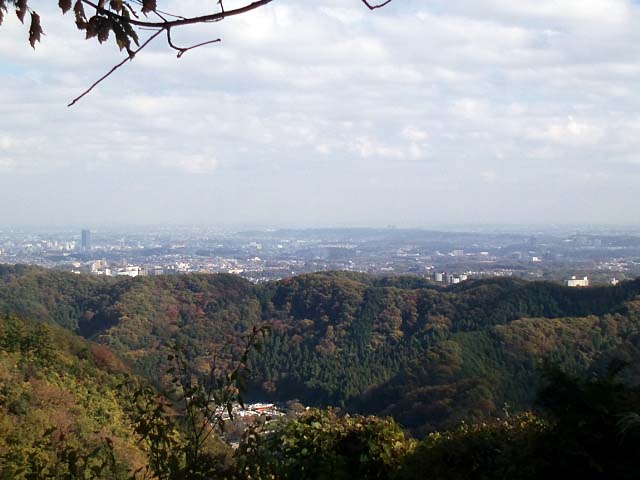 A scenery at the halfway up the mountain.
Greens are still remained.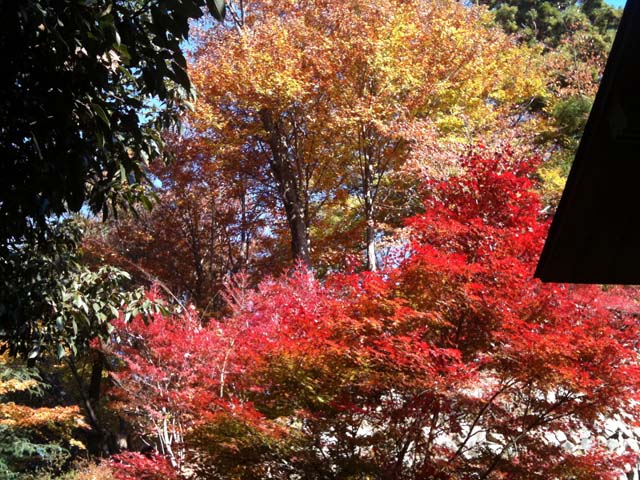 Beautiful colored leaves.
After walking about one and a half hours, finally I got top of the mountain.
What I saw there was amazing!
What's up with this crowdedness!? 😯

Since it was just about lunch time, there were people people and people everywhere! (I wondered where they were from.) There was no space to sit down to eat lunch.
Because I didn't think I could have a break there, I decided to go down immediately.
To the cable car station, I took a walk for a while.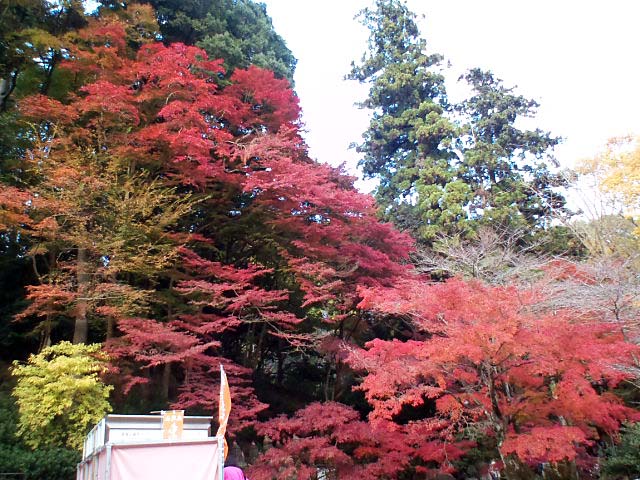 Isn't this brilliant?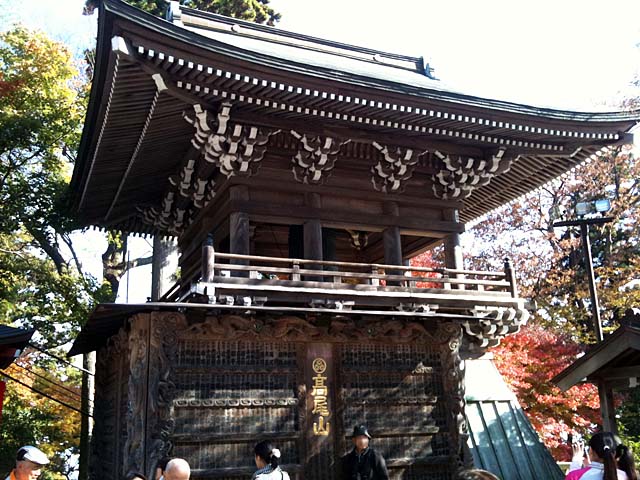 I don't know what is worshiped in that,
but many people were taking picture in front of it.
By the way, I am writing about it like nothing but again, there were so many people that it was hard to take picture around leisurely. It was like walking through jam packed people.
I guess everyone wish "to see beautiful autumnal leaves in Mt. Takao."
The hasty strolling was over, and I came to the cable car station.
It was so packed and I had to wait for 30 minutes.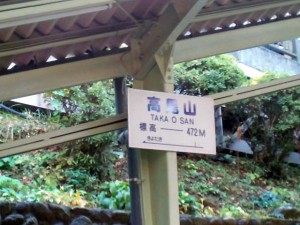 This is the station.
It says it is 472 meters above sea level.
The fare is about US$5.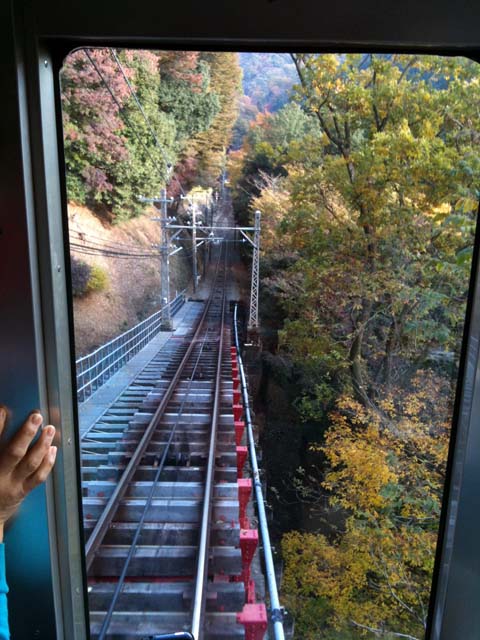 The view from the cable car that I finally got in.
Luckily, I could take the front seat, so I shot the scene.
I think it is an excellent scoop clip. What do you think? LOL.
That is how I plowed my way through the crowed and came back to Shinjuku. It was already evening but I hadn't eaten lunch, so I had shogayaki teishoku (ginger pork set meal).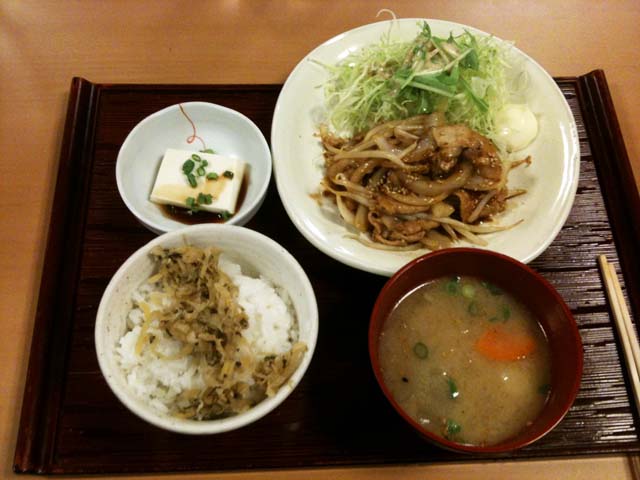 It was about US$7.
At this restaurant, you can eat rice as much as you want, so I ate three bowls. LOL.
*
That's all.
People of all ages were climbing the mountain. None of them is in the pictures but there were a lot of foreign tourists too.
I wonder if Mt.Takao is famous in other countries.
Last but not least, I bought a souvenir for you. I give the key-chain to "one reader" by lottery.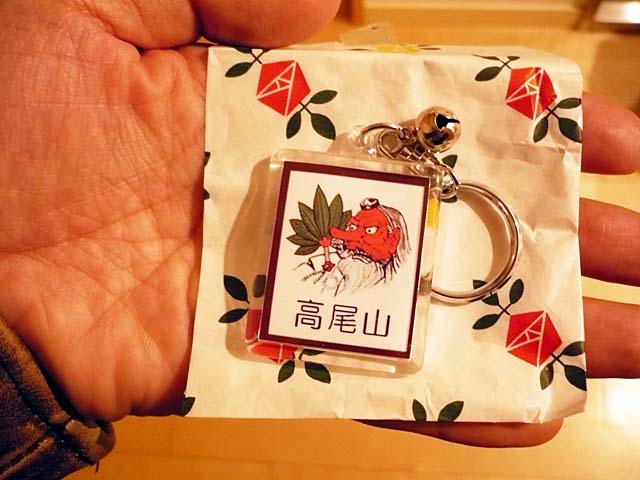 The closing day is December 5 (Sunday).
Please send message through the URL below, titling "Mt. Takao Gift" and write your name, address, and impression on this blog Japan Style!
Apply from here: http://www.japanstyle.info/contact

You should follow me on Twitter.