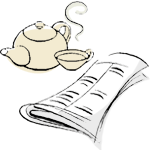 — ABOUT  Wasabi Stories… —
"You Will Gain Something Even If You Fail"
Today's story-teller is Shigehiko Toyama, a professor emeritus at Ochanomizu University.
The story is about the benefits of failing in things.
Firstly, he says that he took college entrance exams and failed the exams twice out of three times.
He used to be ashamed of the fact when he was younger, but as he gets older, his way of thinking has changed.
He started thinking that the people who have had an experience of failing in the exam are mentally stronger than the ones who have not.
Toyama says, "People who have never failed in anything tend to be spoiled. Damaged apples are not just sweet. They have gone through a tough time."
He also says, "A lot of people preached that young people should go to troubles. Carlyle said an experience is the best teacher, but it costs a lot. So, failing in things is the best teacher."
Toyama says that there are a lot of things that you learn by failing in this world. So he concludes that it is good to pass the college entrance exam the first time but it is good to fail in it, too.
The NIKKEI 01/26/2010 by Shigehiko Toyama (professor emeritus at Ochanomizu University)

You should follow me on Twitter.