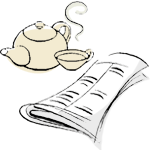 — ABOUT  Wasabi Stories… —
"Keep on Making Effort is Another Respectable Talent"
Today's story teller is chairman of Mitsui & Co., Ltd. Shoei Utsuda.
Let me get straight to the story. First, Utsuda talks about the performance of a Japanese professional golfer, [W:Ryo Ishikawa]. Ishikawa's great success makes him think about the power of great talent.
Meanwhile, there is one of these people in his company. It is Kenichiro Isozaki, who is in the personnel and administration department. Isozaki won the 141th [W:Akutagawa Award] last year.
He found time to write between his work and he won the award 2 years after he has published the first book.
Utsuda says that he used to work over time, so writing between such a hard work must had required a lot of effort.
There are a lot of people who are trying to make a living in certain fields like him.
However, only a handful people can fulfill their dreams.
He says, "When I think of tens of thousands of people who make effort but gain nothing, I cannot help thinking how cruel it is for not having a talent. The talented ones run up the ladder of success, just like a state-of-the-art sports car, leaving ungifted people behind. God is hardhearted sometimes."That is how he feels when he sees ungifted people.
"However…" continued Utsuda, "a talent is a wonderful gift and the social progress cannot be made without it."
He says, "Even if I cannot be the sports car, I would like to accept who I am and plug away at self-improvement."
Utsuda believes making effort itself is one of the talents. That is his message.
The NIKKEI 01/15/2010 by Shoei Utsuda (chairman of Mitsui Co., Ltd.)

You should follow me on Twitter.