Following to the "Hokusai inspired house in Cyprus," I found more Hokusai reproductions. Let me share two of them here!
First of all, this is the Japanese ukiyoe (woodblock printing) artist, Hokusai (1760-1849)'s "Great Wave off Kanagawa."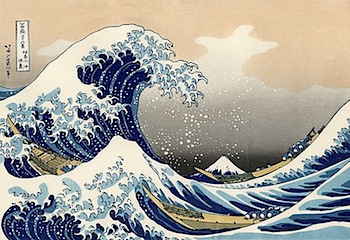 And this is French artist, BERNARD PRAS's "Wave."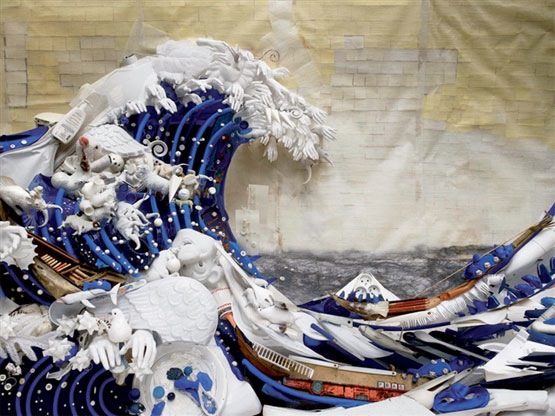 This is cool!
He reproduced the Hokusai's work with bird and animal figures, hands, hoses, button like things. Amazingly, it looks like a piece of picture but it is actually an installation collage.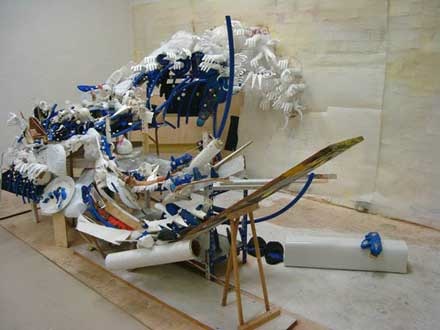 It looks much bigger and has depth, so only from a certain angle it looks the Hokusai's wave.
You can see BERNARD PRAS's work at "AERNARD PRAS-INSTALLATIONS."
Another Hokusai related art I want to share with you today is a video art that became popular on a Japanese video hosting service.
The video titled "Ukiyo-Hakkei" shows the great ukiyoe works by Hokusai and Utagawa in a creative way along with an pop electronic song.
The creator is Tsuyoshi taniyama, who made it as his graduation production at art school.
It can be a TV commercial. I was amazed that it was made by an art student.
Source: Ruriiro Tradition
This is JAPAN Style!

You should follow me on Twitter.