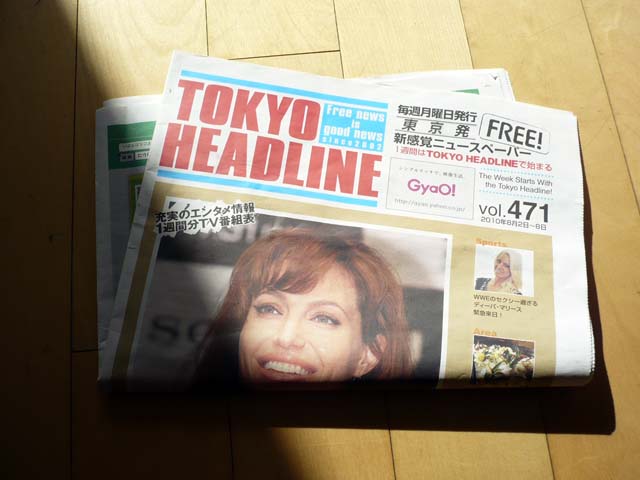 In Tokyo, there is a weekly free magazine called 'TOKYO HEADLINE' which is available at some convenience stores and restaurants.
Many free magazines cease their publication since the market is very competitive. But despite that, Tokyo Headline has been published for nearly a decade. So there is no doubt that it is a successful magazine.
Anyway, I found an interesting article in this week's issue.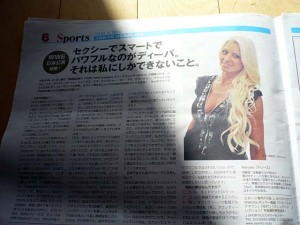 The article was based on an interview with Maryse, a professional wrestler of World Wrestling Entertainment (WWE) Diva, from Montreal, Canada.
She is expressing her enthusiasm for WWE tour which is going to be held in Tokyo on August 20 and 21.
I do not know much about the wrestling, but I learnt that she plays a popular villain, and her sexiness attracts the audience. (Well, that is what 'diva' does.)
Now, I would like to introduce the excerpts of the interview that I find interesting.
Interviewer:
"How do you feel about being in the top position as a diva?"
Maryse:
"I think it is the fruit of my efforts. It is hard to act the villain, and it can't possibly be achieved overnight. When I get on the stage, sometimes I get caught up in fear by overexcitement. Then I tell myself: "I am Maryse. There is only one Maryse in this world. I have to do only what I can do." My position was not arranged for me in the first place. I tried to sell myself to get the chance to perform and I built my career by myself. I am here because my efforts bore fruit."
Interviewer:
"What do you do in your regular life?"
Maryse:
"I have one day off a week. I do things around the house and I go to a nailarium or hair dresser. I get energy from positive people around me. I stay away from negative people because they make me negative. I always try to be with positive people so that I can focus on myself and stay cheerful."
The interview in the magazine was quite long, but I took notice of the part above.
She has got five main points:
1. You have to make your own way in life.
2. Acknowledge your goal and role.
3. Fight against tremendous strain.
4. People you associate with are important. Try to associate with positive people.
5. Never judge people by appearance.
Regarding 5, she could look like one of those blonde airheads, but she is not. In fact, she took the chance to build her career on her own and put some effort in training. She has been focusing on her career.
This article made me realize that people can make a mistake by judging people by appearance.
I hope something out of her story will remain in your heart.
Source: TOKYO HEADLINE vol.471

You should follow me on Twitter.